BJP govts in Northeast have no intention of imposing beef ban: Himanta Biswa Sarma
Press Trust of India, New Delhi |
Press Trust of India
Jun 11, 2017 09:38 PM IST
"We are in power in Assam and people are eating beef there in day-to-day life," Sarma said.
Amid reports of unease among BJP leaders in the Northeast over the beef issue, a top party leader on Wednesday asserted that its state governments have no intention to impose any dietary restriction on people.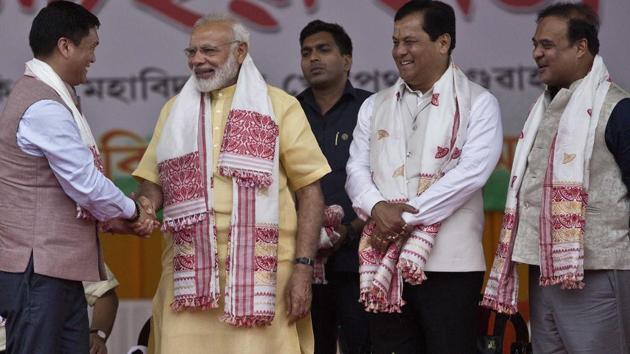 "We are in power in Assam and people are eating beef there in day-to-day life. Where is the ban? There is no intention of the state government to impose any restriction. We have not done so in Arunachal Pradesh and Manipur and we are in government in both states as well," Himanta Biswa Sarma, who is the BJP-led North-East Democratic Alliance convener, said.
The NEDP is a grouping of the BJP and several regional political parties based in the Northeast states. Sarma, who is also a minister in the Assam government, is a key party leader tasked with the responsibility of expanding the saffron outfit in the region.
Opposition parties have attacked the BJP following the Centre's notification to ban the sale and purchase of cattle at animal markets for slaughter.
Some BJP leaders in Meghalaya, which goes to polls next year, quit the party accusing it of trying to push a ban on the consumption of beef, which is eaten widely in the region.
Sarma claimed that the issue had no resonance among the masses and is being talked more in Delhi than these states. The notification is about regulating cattle trade which has always been there in some form, he said.
The two leaders who left the party did so due to political reasons as the party was not considering them for posts they wanted.
"Some people have made it look like that the only issue in the Northeast is beef. It has been portrayed as if people here eat beef from morning to night and there is no other thing. People are asking for roads, rail, jobs... The beef issue has been blown out of proportion," he told PTI.
Targeting the Congress, the main opposition to the BJP-led alliance in the region, he said it has created a "very negative impression" of the region by raking up the issue. "The Congress is trying to popularise beef eating."