BJP resolution adopted during meet ignores serious problems, says CPI(M)
Updated on Sep 28, 2017 08:52 PM IST
CPI(M) general secretary Karat criticised the BJP's political resolution hailing demonetisation, claiming that it flew against the face of all facts.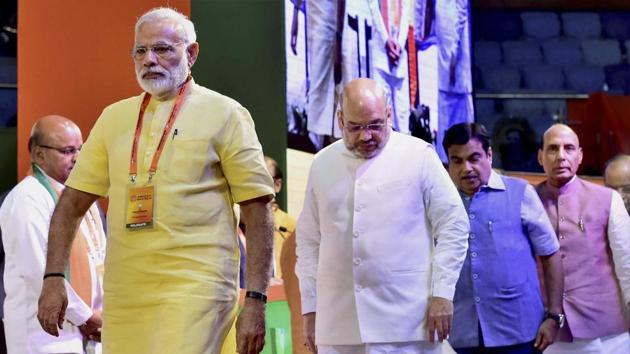 The Communist Party of India (Marxist) on Thursday said the Bharatiya Janata Party (BJP)'s recent national executive meeting was just an exercise to showcase the Narendra Modi-led government's claims on various fronts in view of the forthcoming assembly polls in six states.
The meeting also underlined the "dominance of Narendra Modi in the affairs of the party and the government with Amit Shah playing the role of a trusted lieutenant", it said.
While the resolution adopted at the meeting "failed to inject any enthusiasm" among the BJP's rank and file, the session ignored the serious problems faced by the economy, it said in an editorial in the forthcoming issue of party organ 'People's Democracy'.
The session was "notable for the absence of any introspection" on the many "shortcomings afflicting governance," organ editor and former CPI(M) general secretary Prakash Karat wrote.
Karat criticised the BJP's political resolution hailing demonetisation, claiming that it "flew against the face of all facts".
He questioned its silence over the fact that "99% of demonetised notes had been deposited in banks".
"There is no explanation whatsoever as to why there is an economic slowdown with industrial production declining, exports stagnating, reduction of existing employment in the organised sector and no new jobs being created," Karat said.
The Left leader also attacked the government's GST policy, saying that it made a "mockery of the travails of the small businesses and traders who are unable to deal with the intricacies of registering online for filing their returns and squeezing out informal sector enterprises".
Maintaining that the BJP resolution at the end of the session on September 25 has made "astounding" claims regarding the government's handling of Jammu and Kashmir, he said, "unwittingly the statement has exposed the fact that the BJP thinks the common people of the state are being used by terrorist forces - a thinking which does not make any distinction between the ordinary people and the extremists".
He also said the BJP's resolution "maintains a studied silence about the violent activities of the gau rakshaks and the lynch mobs. Instead it talks about the violence against BJP karyakartas" in states such as West Bengal and Kerala.
On India's external relations, the editorial said, "There is an anodyne reference to how help is being extended to neighbouring countries" facing earthquakes and floods but "the big elephant in the room is not mentioned which is the growing strategic embrace of the United States".
Karat said the resolution was meant merely to showcase the government's claims in view of the forthcoming assembly elections in six states due within the next twelve months.