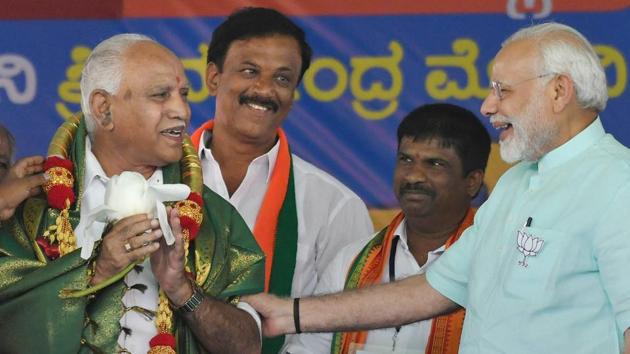 BJP's Yeddyurappa says his becoming Karnataka CM inevitable this election
BJP's chief ministerial candidate BS Yeddyurappa said he would take oath as Karnataka's next chief minister at Vidhana Soudha.
UPDATED ON MAY 04, 2018 12:18 AM IST
Buoyed by the response to Prime Minister Narendra Modi's public rallies in poll-bound Karnataka, BJP's chief ministerial candidate BS Yeddyurappa on Wednesday said his becoming chief minister was "inevitable" and no one need have any doubts about it.
Sounding upbeat, Yeddyurappa said there should not be any confusion about his swearing-in ceremony at Vidhana Soudha, the state secretariat, which he hinted would happen on May 17 or 18.
In his address to party workers at Shivamogga, he said, "May 17 is Thursday and May 18 is Friday. We have to look at the convenient time of the Prime Minister. Chief ministers of other states too will attend the event," he said.
"My oath taking at Vidhana Soudha as the chief minister of Karnataka is inevitable. Nobody should have any doubt about it... Karnataka election results will be a replay of UP election results. There is no confusion about it," Yeddyurappa told the cheering crowd.
Yeddyurappa said impetus to development activities would be among his government's priorities.
"We are releasing our manifesto on May 4. We will waive farm loans from nationalised banks. We will take up the development works you are expecting from the government," said the BJP's chief ministerial candidate.
According to party sources, huge crowds had thronged the public meetings addressed by Prime Minister Narendra Modi at Santhemarahalli, Udupi and Chikkodi on Tuesday.
At Santhemarahalli, Modi addressed Yeddyurappa as the next chief minister of Karnataka.
Even BJP president Amit Shah made a similar statement at various public meetings, including at the Kolar Gold Field. Addressing a gathering on April 30, Shah said that by the final round of counting of votes at 1 pm, Yeddyurappa would emerge as the state's next chief minister.
Close