BJP using NCB to target Maharashtra and Bollywood, claims minister Nawab Malik
Oct 29, 2021 09:39 PM IST
Aryan Khan drugs case: Nawab Malik claimed that Uttar Pradesh chief minister Yogi Adityanath wants to build a film city in his state, and the move could be behind attempts to defame Bollywood
Nationalist Congress Party (NCP) leader and Maharashtra minister Nawab Malik on Friday urged the Narcotics Control Bureau (NCB) to probe the 26 cases brought forward by an anonymous employee of the agency. Malik also reiterated his demand for action against Fashion TV executive Kashiff Khan, who he claimed organised a cruise ship rave party that was raided by NCB zonal director Sameer Wankhede's team on October 2, leading to the arrest of Bollywood actor Shah Rukh Khan's son Aryan Khan the next day in the case.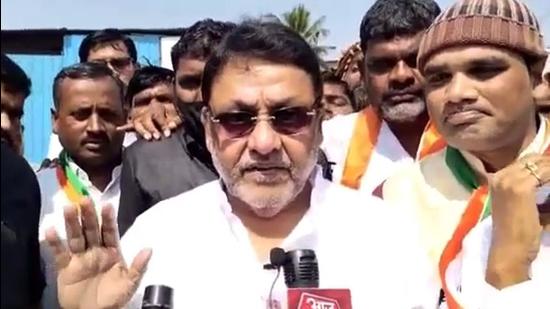 Kashiff Khan has refuted all the allegations and said that the minister has been misled and misinformed by someone. He also said that he is not the organizer of any party at the cruise and Fashion TV was the official sponsor of the event. He also clarified that he has no relation with Wankhede as claimed by Malik.
He also revealed that Kiran Gosavi, a witness in the Aryan Khan drugs case who was arrested in a cheating case in Pune, is linked with a Bharatiya Janata Party (BJP) leader. Malik claimed that Gosavi is a partner in a private firm along with the BJP leader and his wife. He, however, has withheld the name of the BJP leader and said it will be disclosed during the winter session of the state legislature commencing from December 7. He also said that the BJP is conspiring with the narcotics control bureau (NCB) to defame Maharashtra, its government, Mumbai and its Film industry.
Malik had earlier claimed that BJP office-bearer Manish Bhanushali is a witness in the Bollywood actor Shah Rukh Khan's son Aryan Khan drug bust case. Bhanushali was seen bringing Arbaaz Merchant, another accused arrested along with Aryan Khan, at the NCB Mumbai office in a video clip that went viral.
"One Shekhar Kamble, a witness in one of the 26 cases, has narrated how the NCB official framed an innocent Nigerian citizen after the raid failed to catch the drug peddler… Not all Nigerians are drug peddlers. I have written a to the NCB chief referring to the statement of Kamble and request him to probe the cases as they are serious in nature. Nabbing offenders is the responsibility of NCB but if innocents are being framed then a probe shall be conducted. Those who are innocent should get justice while those who have framed them should be brought to justice," he added.
later in the day, Malik sent a letter to NCB, director-general, SN Pradhan seeking a probe into the allegations made in the letter. "The NCB has said it will not take cognisance of the anonymous letter purportedly written by an NCB employee as the Central Vigilance Commission guidelines are against it. However, the claims related to 26 cases by the NCB are very serious in nature and more than 100 innocent people booked over the cases are behind bars," Malik said.
"Kiran Gosavi is a director in a private limited company along with a BJP leader and his wife. I am not taking their name, if taken, they will approach the court giving various reasons hence it will be disclosed during the winter session of the state assembly in reply to the allegations to be made by BJP. I have more explosive information, if disclosed they will not be able to show their faces to the people… Many people have drug connections and I am collecting the evidence. Many big names will come out in the winter session," he said, refusing to disclose a name.
Malik also said that Wankhede is a puppet in the hands of BJP, which does now want their 'parrot' to speak out, otherwise, the party will be in trouble. He said if investigated Kashiff Khan will spill the beans hinting at his alleged connections with Wankhede and BJP leaders.
"These are malicious allegations to target my reputation. They are false and are being levelled for the first time in the 15 years of my service. I condemn the attempt in strong words," Wankhede said.
Leader of Opposition and former chief minister Devendra Fadnavis refused to speak on the allegations levelled by Nawab Malik. "Malik keeps speaking the entire day as he does not have anything else to do. There is no need to react to his every comment. He is a 'parrot' of NCP. Malik may be important for you (the media) not us," he said.
BJP spokesperson Keshav Upadhye said, "He (Nawab Malik) should tell the name first and then make the allegations. Making an allegation without revealing a name is not right," Upadhye said, responding to the allegation.
Malik also claimed that Uttar Pradesh chief minister Yogi Adityanath wants to build a film city in his state and the move behind attempts is to defame Bollywood. "UP CM Yogi ji wants to make a film city in Uttar Pradesh. He met a few people at Hotel Taj in Mumbai. Those who support the BJP met him. They believe Bollywood will be shifted out of Mumbai, if defamed," Malik said.
"They (BJP) don't know that great personalities such as Dadasaheb Phalke, V Shantaram, many other Marathi actors, directors and other personalities contributed to the formation of Bollywood. It takes our culture and tradition to the world. It employs lakhs of people. If they believe that by defaming Bollywood, Yogi Maharaj can create UPwood then they are mistaken," he said making the accusation.
"The state government has failed in running the administration. They have failed to sort out any major issue and thus allegations are made only to mislead people," Upadhye said.
"I have spoken about a man with a beard and that person is Kashiff Khan. He arranges fashion shows in which drugs are served. He runs a sex racket and is involved in pornography. He is the one who has organized a program at a cruise and people were invited by posting invitations on the social media platforms. I have got a video of the event organized by Kashiff Khan on October 3 (Sunday) at 6.30pm which was posted on a website. He is having good relations with Wankhede. I have raised the question as to why this honest officer (Sameer Wankhede) is not arresting Kashiff Khan, if arrested he will spill the beans," the NCP leader alleged.
They claimed to have the information of the rave party a month in advance and the organiser who has a criminal background was not investigated. No scanning of around 1,300 people present on the cruise, no detention, means there is some relation. It will come out after the probe. If Kashiff Khan is arrested many will be exposed. How much money he has, of how many people and what all he does for them everything," he added.
Terming the allegations as baseless, Kashiff Khan told a news channel that he has nothing to do with any kind of drugs or any drugs substances as he doesn't smoke even a cigarette. "Nawab Malik is very misled and misinformed. I think he has all the wrong information. I would like to state categorically that I have nothing to do with any kinds of drugs or any drugs substances. All the allegations and baseless comments are completely false and I am not aware why he is doing that. I neither know Malik nor have I ever met him. I also don't know why he is dragging me into all this but I am sure there is some misunderstanding from his end. The one, whom he has been informed by, is giving wrong information," Khan told ABP Majha on Friday.
He maintained that he didn't know Wankhede and had never met him. "I am not aware of any kind of association, friendship, talks, calls with Mr (Sameer) Wankhede," he stressed. He said that the firm that organized the event is from Delhi and are already booked and arrested. "I have paid for everything including food and beverages with my credit card with duly taxes paid and I have all the bills and invoices. I am also ready to prove this on any forum."
Responding to the claims by Wankhede's family that his family was being personally targeted by Malik, the minister defended his position, saying didn't say a word about Wankhede's wife Kranti Redkar.
"Exciting news! Hindustan Times is now on WhatsApp Channels
Subscribe today by clicking the link and stay updated with the latest news!"
Click here!
Get
Latest India News
along with
Latest News
and
Top Headlines
from India and around the world