Blood on call, free of charge: Purnia youth show way
Hindustan Times, Purnia |
Aditya Nath Jha
Feb 24, 2017 05:22 PM IST
Perseverance of one man has raised a 400-member team of volunteers ready to donate blood to the needy, anytime of day or night, free of any charge 'because blood is too precious to put a price on"
In 2005, Kartik Choudhary , then 25, saw a man die in a hospital as blood was not available for him to undergo transfusion that he desperately needed. "Never again will I see such a day", the young businessman vowed to himself.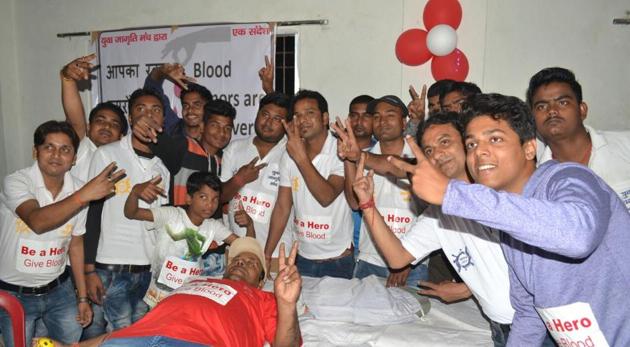 Over the past 12 years, Choudhary has raised a team of men and women who have pledged to raise blood for the needy, anytime of the day or night. "We have issued a mobile number (9431292364). All one needs to do is to call us", he explains.
The blood comes free of charge.
The forum that Choudhary set up in 2005, called the Yuva Jagriti Manch, now has about 400 volunteers, out of which about 70 dedicated persons, in the 18-45 age group, are ready to donate blood on call, night or day, to emergency patients.
"I fact, they are prepared to offer blood to emergency patients even outside (the eastern Bihar district headquarters town of) Purnia, where the group is based. By a conservative estimate, they have saved over 1,000 lives so far", says Choudhary.
One recent beneficiary of their altruistic spirit was Nirupama devi of Purnia. "A little before midnight on October 17 last year my daughter, Rupam, was battling for her life at the Sadar hospital and urgently needed two units of B negative blood, which is rare. I dialled the number provided and received blood within 30 minutes", she says.
The Yuva Jagriti Manch has no president or secretary. All its members are on an equal footing. "The blood we provide is free of cost as one cannot put a price to something as precious as blood", says Choudhary, a soft-spoken man whose humility is touching.
"We offer blood to ailing persons as it gives more worth to our lives", say a group of volunteers comprising Ravi Tamboti, 45, Prabodh Jha, 45, Prashant Choudhary, 32, Rakesh, 27, Rahul Kumar, 27, Aftab Alam, 27, Bhanu Bhaskar,18, Suraj, 18 and Sangeeta Choudhary, 38.
But publicity is the last thing they want. "We don't want credit for our work. The satisfaction we derive from our effort is reward enough for us", says Choudhary, who's forum holds blood donation camps every three months with support of the Red Cross society.