Budget 2018: Jaitley promises farmers 50% returns over cultivation costs
Minimum support prices for kharif crops to be set at 1.5 times the cost of cultivation, leading to higher returns, a key demand of protesting farmers.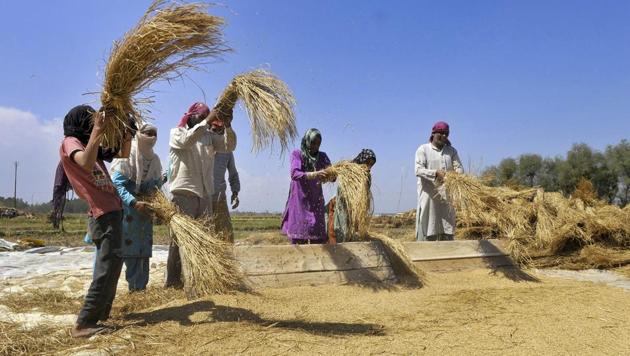 Published on Feb 01, 2018 11:42 PM IST
Kicking off with a burst of announcements for the farm sector, finance minister Arun Jaitley on Thursday said the National Democratic Alliance (NDA) government would deliver on its promise of ensuring 50% returns for farmers, seeking to address rural angst due to collapsing prices.
In his budget speech, Jaitley said federally determined minimum support prices (MSPs) for summer-sown (kharif) crops this year would be set at 1.5 times the cost of cultivation, which translates to 50% returns.
This has been a key demand by protesting farmers in several agriculturally developed states, such as Maharashtra and Madhya Pradesh.
Jaitley surprised critics by declaring that his government had already adhered to this pricing benchmark for most crops in the ongoing rabi-sown (winter) season. He said this would be henceforth applied for the rest of crops. "The government has decided to keep MSP for the all unannounced crops of kharif at least at one and half times of their production cost," he said.
The finance minister did not announce any specific price-deficit payment scheme to compensate farmers directly for market losses when prices dip below MSPs, as was widely anticipated. Such a scheme is already being implemented in Madhya Pradesh. He, instead, said that Niti Ayog would soon come out with a "foolproof mechanism" on how to compensate farmers when prices crash.
The budget announcement comes amid a rough patch in the agriculture sector, forecast to grow just 2.1% in 2017-18, as against 4.9% in the previous year. The announcement of 50% returns over costs set off a flurry of debate on the fine print, with farm leaders wondering which of the two measures of cultivation costs — the so-called 'C2' or 'A2 + FL' — the government would adopt. Jaitley did not specify the measure that will be used.
'C2' is a more comprehensive measure of a farmer's cultivation costs, which includes imputed rental value of land, depreciation and interests on capital. These are not part of the 'A2+FL', a narrower measure that includes input costs and imputed value of only family labour.
"The crux of the battle on prices boils down to the government's definition on cost of production…The government seems to have chosen a lower cost measure so that it can declare that it is already providing cost + 50% in this rabi," said Kiran Vissa of the Rythu Swarajya Vedika, part of a platform of farmer organisations. He said when PM Narendra Modi had promised 50% returns in his election campaign, MSPs were already giving higher returns than under Modi's tenure.
In 2007, the MS Swaminathan Committee had recommended 50% returns for crops, which the BJP's 2014 poll manifesto adopted. In the para containing the specific recommendation, the Swaminathan report said MSP should be 50% over "costs of cultivation", not specifying which measure. But in its annexure, the report used C2 costs to calculate net farmer returns.
Economist Ashok Gulati told HT that for rabi crops, the MSP was closer towards 50% of costs. In wheat, it is in the region of 44%-45%, but in other crops it is just 20%-30%. "The real challenge is for kharif crops. In paddy, MSPs and returns are not more than 10%-12%," he said. If the government actually sets MSPs at 1.5 times the C2 costs, then it would also mean a huge jump in the food subsidy bill and make India's produce expensive in the exports market, he said.
The budget announced a new scheme called 'Operation Greens' to promote value addition for tomato, onion and potato. This would be similar to 'Operation Flood' that revolutionsed the dairy sector, Jaitley said. Two funds to boost fisheries and animal husbandry were allotted Rs10,000.
The budget also set a target of Rs11 lakh crore for agriculture credit in 2018-19, a 10% rise. Jaitley said 22,000 new and existing rural marketplaces would be developed to give farmers access to buyers. Tenant farmers would be made eligible for farm loans under a new policy, he said, adding a liberalised farm-exports regime was in the works. Various ministries will have Rs14.34 lakh crore in all to create rural jobs and infrastructure.
With a view to boost food processing, which can improve commodity prices, allocation to the food processing ministry was being doubled from Rs715 crore in 2017-18 to Rs1,400 crore in 2018-19, Jaitley said.
Close Story
Personalise your news feed. Follow trending topics