Cabinet okays death penalty for aggravated sexual assault of children
To curb child pornography, the amendment levies heavy fine for not deleting, destroying child pornographic material. Not reporting child pornography will also invite a hefty fine, the minister said.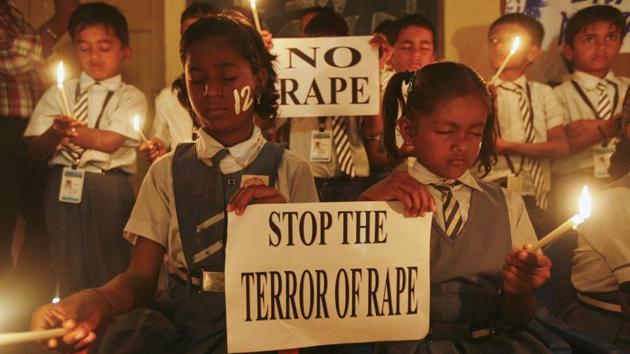 Updated on Dec 28, 2018 11:22 PM IST
Hindustan Times, New Delhi |
Anisha Dutta
Child sexual assault will be punishable with death sentence under amendments to the Protection of Children from Sexual Offences (POCSO) Act, 2012, approved by the Union cabinet on Friday at a meeting chaired by Prime Minister Narendra Modi. The amendments seek to make the law gender-neutral and sharpen its deterrent edge.
The death penalty will apply to cases of aggravated penetrative sexual assault on children below 12 years of age. Section 4 of the POCSO Act, which deals with punishment for penetrative sexual assault, now prescribes a sentence that's not less than seven years in jail and may be extended to life imprisonment as the maximum punishment. The proposed amendments increase minimum imprisonment to 10 years which may extend to imprisonment for life.
Section 6 of the Act has been amended to read: "Whoever commits aggravated penetrative sexual assault shall be punished with rigorous imprisonment for a term which shall not be less than 20 years but which may extend to imprisonment for life which shall mean imprisonment for the remainder of that person's natural life and shall also be liable to fine or with death".
The death penalty will apply to cases of aggravated sexual assault, which refers to rape and gang rape.
"In the wake of gruesome and heart wrenching incidences, there has been a growing demand from the society to arrest the disturbing trend (of child sexual assault) by introducing stringent punishment including death penalty for the rape cases, "the ministry of women and child development said in a proposal to the cabinet, a copy of which has been reviewed by Hindustan Times.
The cabinet approved amendments in sections 4, 5, 6, 9, 14, 15 and 42 of the POCSO Act. "The modification is made to address the need for stringent measures required to deter the rising trend of child sex abuse in the country," the cabinet said in a statement.
This is an initiative to strengthen the entire POCSO architecture and also enhance it to ensure that medicines or hormones are not be abused to destroy the childhood of innocents, said Union law minister Ravi Shankar Prasad, who briefed reporters on the Cabinet decisions.
The POCSO Act, 2012 was enacted to protect children from offences of sexual assault, sexual harassment and pornography and to safeguard their interests and well-being. The Act defined a child as any person below eighteen years of age. Certain sections of the Act, however, were not gender-neutral and applied only to female victims. The amendments seek to correct that.
"Government has always strived to seek justice for all the survivors of child sexual abuse, the most vulnerable section of society. I am extremely grateful to Modi and the cabinet for this momentous step in protecting children against abuse and harassment," minister for women and child development Maneka Gandhi said.
In cases of aggravated sexual assault, under section 5, the government also added a clause to include children sexually exploited in the course of communal or sectarian violence, or during a situation of natural calamity.
"Immediately after the earthquake in 2015, Nepal Government suspended International adoption, banned children from travelling without parents or guardians, and suspended the registration of new orphanages, yet in the following three months 513 children and women at the risk of being trafficked were intercepted. There were also reports of rape of young girls including a Kedarnath deluge survivor, in the media. Therefore, apart from the sectarian violence, natural calamity has been included," the WCD ministry noted in its proposal.
The cabinet also approved an amendment to address child pornography. It proposed a fine for not destroying/or deleting/ or reporting pornographic material involving a child. The person can be penalized with a jail term or fine or both for transmitting/propagating/administrating such material in any manner except for the purpose of reporting it to the authorities.
Not everyone is convinced that the death sentence will deter sexual crimes against children, and there is concern that it may deter the reporting of such offences .
"To protect children, we need better implementation of existing laws, budgetary provision and strategic moves to create awareness among communities and children on the issues of child protection," said Priti Mahara, director of policy, research and advocacy, Child Rights and You, a non-government organisation.
"We need robust victim and witness protection system, support system for victim and families during and after the trials. 94.6% of the cases of sexual offence perpetrators are known to the victims, and therefore – because of the familiarity of the child with the offender – the bigger worry is that capital punishment may serve to deter the reporting of cases. It may even lead to destruction of evidence by murdering the victim," Mahara added.
Topics
Close Story