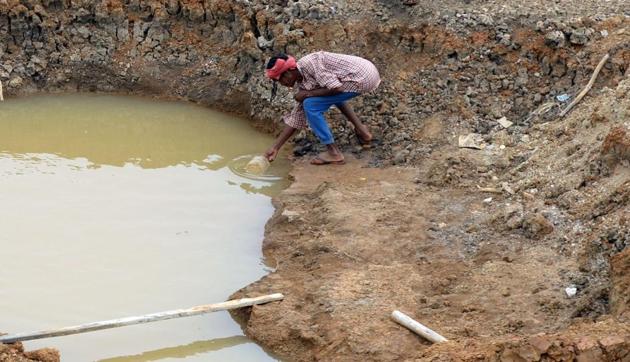 Centre asks parched states to finish drought proofing
The Union rural development ministry has written to all states with water stressed blocks and asked them to finish incomplete drought proofing and water management related works, an official familiar with the matter said.
Hindustan Times, New Delhi | By Jayashree Nandi
UPDATED ON JUL 03, 2019 08:36 AM IST
The ministry of rural development has written to all states with water stressed blocks to finish incomplete drought proofing and water management related works and prioritise new works to recharge groundwater this monsoon.
This follows a Jal Shakti Ministry circular that identified 1,592 water stressed blocks out of which 1,160 are rural blocks that immediately need to take up water conservation activities. MGNREGA works have been identified to be the main mode of intervention for these blocks.
Tamil Nadu is the most water stressed with 541 blocks in the category followed by 218 in Rajasthan, 139 in Uttar Pradesh, 137 in Telangana and 111 in Punjab as per data collated by the Central Ground Water Board put out by Jal Ministry.
Jal Ministry launched the Jal Shakti Abhiyan on Monday following widespread reports of water stress in peninsular and central India but experts say preparatory works should have started way in advance to tide-over the crisis this year.
There is a massive backlog of water conservation and drought proofing works according to data with MoRD. For example, 6.9 lakh water harvesting works taken up in the past few years costing about Rs 5111 crore are either incomplete or suspended while about 53,000 are ready to be utilised.
About 1.4 lakh renovation works of traditional water harvesting structures are ongoing or suspended while only about 7,600 are complete. Similarly, 8.19 lakh drought proofing works are incomplete or suspended while only about 75,000 are ready.
"We have asked all states to focus on the blocks identified and complete water related works yet to be completed. We have also underlined that focus should be only on natural resource management works which includes water related works this year," said Kamran Rizvi, joint secretary, ministry of rural development.
But the renewed effort to capture monsoon water is late. Most works were delayed partly because of Lok Sabha elections in April and May. Despite deficiency in pre-monsoon rains and drought like conditions carried over since last year, the person days generated upto June are much lower than in previous years. "This is mainly because of elections during that period," Rizvi added.
"A water campaign is very different from say a Swachch Bharat Abhiyan. Water conservation structures cannot be built when monsoon has already arrived. The government should have planned to complete the works before keeping ongoing water crisis in mind. Labour will also be busy with agricultural works now," said Rajendra Singh, environmentalist and Jal Biradari founder. "I would recommend that the government come up with a comprehensive law for water security. MGNREGA can be utilized very well for water conservation. The idea of the scheme was to ensure self reliance of villages," he added.
In the last couple of years, the focus of MGNREGA was on individual asset creation through Pradhan Mantri Awas Yojana projects. Nearly 80% of the individual asset creation works under MGNREGA were PMAY projects where beneficiaries were paid to build their houses, a senior official at MoRD said.
In 2018 when monsoon was below normal at only 91% of long period average the demand for MGNREGA works was the highest compared to previous five years. It was mainly due to rural distress associated with weak monsoon, officials at MoRD said. This year too they are expecting a peaking of demand for MGNREGA works later this year.
Standard Precipitation Index (SPI) data from June 2018 to May 2019 released by India Meteorological Department, Pune shows large parts of the country have been severe or extremely dry for more than a year.
Some experts also said the scheme should be funded better to utilize it well for water conservation. Rajendran Narayanan, assistant professor, Azim Premji University said delayed payments and inadequate funding has weakened participation. "
To estimate the extent of under-provision, we have analysed work demand and employment generated for over 5,700 panchayats across 20 States (for 2017-18 and the first three quarters of 2018-19). We found that in 2018-19, the employment generated was about 33% lower than the registered work demand, and in 2017-18, about 30% lower."
Close