Centre defends sending 2 top CBI officials on leave, tells SC 'both were fighting like cats'
Centre on Wednesday explained to the Supreme Court why it had to step in to break up the public fight between CBI officials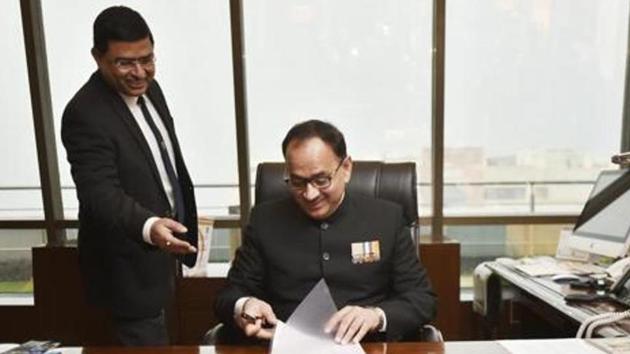 Updated on Dec 05, 2018 06:54 PM IST
The government on Wednesday explained to the Supreme Court why it had to step in to break up the public fight between CBI director Alok Verma and his deputy, Rakesh Asthana and send them on leave. The Centre told the judges that it had acted well within its jurisdiction and didn't have much of a choice.
"The fight between Alok Verma and Rakesh Asthana was becoming critical and matter of public debate, government was watching with amazement as to what the top officers were doing. They were fighting like cats," the government's top law officer Attorney General KC Venugopal told the top court.
"Only God know where this spite between its top officers may have ended and therefore the Government of India stepped in," the Attorney General said, responding to the Supreme Court wondering if the CBI director could have been 'immobilised' rather than moved out.

The government underlined that divesting the CBI director and his No 2 did not amount to their transfer.
Alok Verma and his deputy, special director Rakesh Asthana, were divested of their powers on October 23 after an internecine battle between the two officers who accused each other of corruption.
Their marching orders came days after the CBI, then controlled by Alok Verma, filed a case against Asthana.
After they were moved out, Verma petitioned the Supreme Court against the government order transferring him, insisting that he could have only been removed on the recommendation of a high-powered panel that includes the leader of opposition in the Lok Sabha. Alok Verma's tenure as CBI director comes to an end in January.
At a previous hearing, the court had also asked what the government's options were if a CBI chief is caught red handed accepting bribe. Noted jurist Fali Nariman, who is representing Alok Verma, had responded that even in such a situation, "the committee has to be taken into confidence and only court can decide on the fate of the director."
The Supreme Court had earlier fast-tracked a central vigilance commission inquiry against Alok Verma and asked a retired judge to oversee the exercise. The findings of this inquiry are still a secret but the Supreme Court, which reviewed the conclusions, had told the officer in court that there were portions that were not complimentary to him.
Close Story
Personalise your news feed. Follow trending topics