Chardham project could be disastrous for earthquake-prone Uttarakhand, say experts
Published on Jan 09, 2018 11:38 PM IST
The two centrally funded projects aim to ensure a safe and faster access to the 'Chardhams' (four shrines) for pilgrims from across the country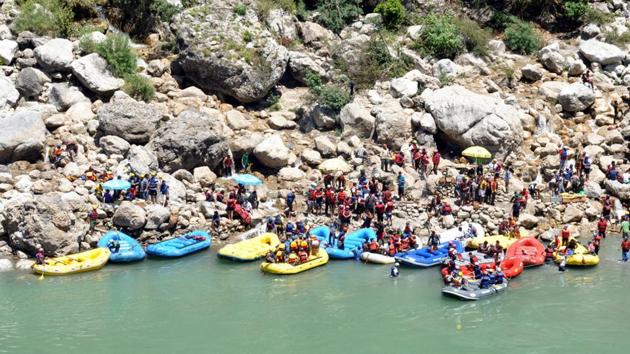 The Chardham all-weather road project and the Rishikesh-Karnprayag rail line project may spell disaster for seismically sensitive Himalayan region if advanced technologies were not adopted, experts said.
The two centrally funded projects aim to ensure a safe and faster access to the 'Chardhams' (four shrines) for pilgrims from across the country.
"I am not anti-development but the two mega projects should be implemented using advanced equipment backed by equally hi-tech engineering," said Prof YP Sundriyal, a geological expert at HNB Garhwal (Central) University. He warned the projects would spell disaster for the region if old technologies like uncontrolled blasting of hills and tunnel digging are continued with.
"The five valleys (of the Ganga, the Alaknanda, the Bhagirathi, the Yamuna and the Mandakini ), which are already crisscrossed by a network of roads and highways, have the Main Central Thrust or MCT crossing beneath them," Sundriyal said.
The MCT is a "major geological fault" where the Indian Plate has pushed under the Eurasian Plate along the Himalayas. All the earthquakes that struck the Garhwal Himalaya since 1991 occurred mostly in those five valleys through which the MCT passes, he said. Sundriyal warned all bridges would tumble down along with stretches of roads during a high-intensity earthquake.
The hill slopes loosened by the uncontrolled blasting of rocks for road widening or by digging tunnels through them for laying rail lines would be washed away by monsoon rains leaving a trail of disasters, he said. "That's what we witnessed during the floods that struck in 2013 killing thousands of people in the Chardham region."
National Centre for Seismology director Vineet Gehlot said Uttarakhand was most vulnerable to a big earthquake in the entire Himalayan arc as such tremor has not occurred in the region in the past 500 to 700 years. Dr SP Sati, a research officer at Garhwal University's Department of Geology, said seismic tremors frequently occurring in the areas under the twin projects have left the hill slopes weak.
However, Public Works Department's National Highway chief engineer Hari Om Sharma, assured that all measures were being taken for protection of debris sites. He added that compensatory afforestation would be carried out for the uprooted trees.
Personalise your news feed. Follow trending topics