China 'breached, encroached' territory in Doklam: Govt tells opposition parties
India and China have been locked in a military stand-off in Doklam sector in Sikkim since early June over the construction of a road by the Chinese army.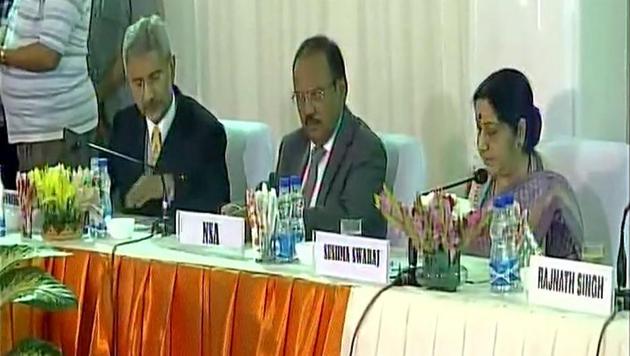 Updated on Jul 14, 2017 10:04 PM IST
China has "breached and encroached" territory at the disputed Doklam area, the government told opposition parties on Friday during a briefing on the latest India-China standoff and the militant attack on Amarnath pilgrims.
Foreign secretary S Jaishankar briefed the opposition leaders about the Chinese incursion, said AIADMK parliamentarian A Navaneethakrishnan, who attended the meeting.
"We are satisfied with the government's response," he added.
Tension between the two Asian giants escalated in the past three weeks over the standoff at Doklam in the Sikkim sector, located at a narrow but strategically important tri-junction of India, China and Bhutan.
China has accused Indian soldiers of trespass and preventing its army from building a road in the region, which is claimed by Bhutan. Beijing wants India to withdraw its troops from Doklam for any dialogue between the two sides.
As the impasse festered, opposition parties criticised the government for what they said not taking them into confidence on issues of national interest and security.
Congress vice president Rahul Gandhi questioned last Friday the Prime Minister's "silence" on the border faceoff. "Why is our Prime Minister silent on China?" he asked on Twitter.
The government convened a meeting and invitations were sent to all prominent opposition leaders.
Union home minister Rajnath Singh, foreign minister Sushma Swaraj and national security adviser Ajit Doval were present at the briefing.
The Congress said that it was satisfying to know that after three years, the government had finally woken up and had convened a meeting to brief the opposition.
Party spokesperson Randeep Surjewala said: "We shall support the government in every endeavour to defend our national interest and our borders."
Before briefing the opposition leaders, senior ministers Swaraj, Singh and Arun Jaitley, national security adviser Doval and BJP president Amit Shah held a two-hour meeting.
Sources said the meeting went over points to be discussed with the opposition on the situation in Jammu and Kashmir after militants killed seven Amarnath pilgrims and the India-China standoff.
The opposition is likely to raise these issues when Parliament sits for its monsoon session from Monday.
(with agency inputs)
Close Story