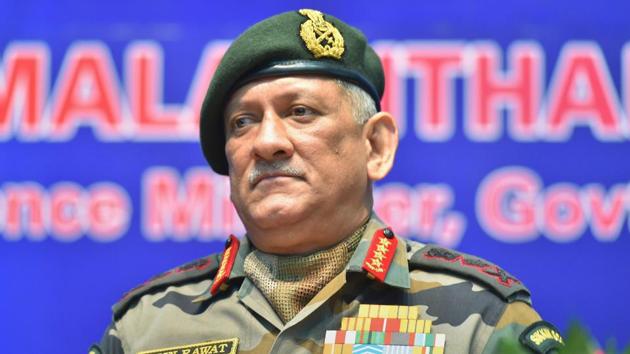 India should involve neighbours to check China's assertiveness, can't let them drift away: Army chief
Referring to the US' warnings to Pakistan over its handling of terrorism, the Army Chief says India will have to wait and see its impact.
UPDATED ON JAN 12, 2018 11:02 PM IST
Army chief General Bipin Rawat said on Friday that India needs to shift its military focus from its western border with Pakistan to its northern border with China, and called for partnerships with neighbouring countries to check China's growing assertiveness in the region.
Naming Nepal, Bangladesh, Sri Lanka, Myanmar, Bhutan and Afghanistan, Rawat asserted that India must not let these nations "drift away from us". China is a "powerful country", he said, but stressed that India isn't a "weak nation".
Talking to reporters at his customary briefing before Army Day on January 15, the general said that Chinese troops were still present in reduced numbers in north Doklam – a plateau at the strategic India-Bhutan-China tri-junction where India and China were locked in a 73-day border standoff last year.
"This de-escalation may have happened due to winter. They may return here or somewhere else after the winter months. If they come again, we will see what to do," Rawat said, responding to a question on the situation in Doklam.
He said the Indian Army had intensified patrolling along the Line of Actual Control and that had led to an increase in contacts with the Chinese army.
"We are seeking support of other nations to see that we are not isolated completely in a situation in Asia against an assertive China. That is the next step that is being taken and therefore you will find that a quadrilateral is formed," Rawat said, referring to the grouping of the US, India, Japan and Australia in the Indo-Pacific.
On the western front, Rawat said the Indian Army was ready to call Pakistan's nuclear bluff. "If we really have to confront the Pakistanis and the country gives us a task, we are not going to say we will not cross the border because they have nuclear weapons," he said.
Rawat also called for education reforms in Jammu and Kashmir, describing the current curriculum "corrupted."
"What is being incorrectly informed to the students is through the madrasas and masjids. Some control has to be exercised over them," he said, and questioned why two maps — one of India and one of J&K — were displayed in classrooms of government schools in the state.
Close