Cong moves minority panel seeking action against Sakshi Maharaj for 'hate speech'
The BJP MP blames Muslims for India's population growth and also calls for a ban in allocation of land for graveyards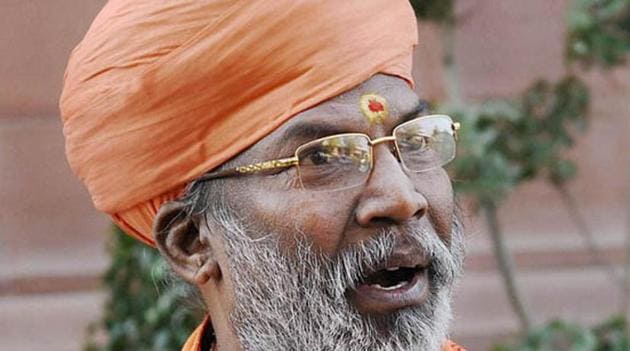 Updated on Mar 01, 2017 04:28 PM IST
BJP MP Sakshi Maharaj has again courted controversy, blaming Muslims for rise in India's population and suggesting that no land should be allotted for graveyards.
Irked by Maharaj's comments, the Congress filed a complaint to the National Commission for Minorities (NCM) against the BJP leader, accusing him of spreading communal hatred.
Congress leader Shehzad Poonawala sent a petition to the NCM for immediate action against BJP MP Sakshi Maharaj for making yet another hate speech against Muslims in violation of model code of conduct.
The BJP MP's comments come a few days after Prime Minister Narendra Modi hit out at the SP government in UP over its alleged appeasement policy. Modi had demanded that if the state government gives land for graveyard it should also provide land for crematoriums.
In his petition to the NCM, Poonawala, a secretary in the Maharashtra unit of the Congress, said it should "Direct the Election Commission of India to take necessary steps against the Bharatiya Janta Party for these remarks made by Shri Sakshi Maharaj as it violated various provisions of the Representation of People's Act, 1951 and the model code of conduct."
According to the Congress leader, Maharaj is a repeat offender and he had made deliberate attempts to vitiate the atmosphere in the aftermath of the Muzaffarnagar riots and during the 2017 elections.
The remarks, the Congress alleged, were deliberately, intentionally and maliciously calculated to incite hatred and ill will between communities and cause public mischief.
Sakshi Maharaj, talking to the NDTV said, he was trying to point out that there is a paucity of land. "Where will people live if all the land is used for constructing graveyards?" he told the TV channel.
"Whatever the name of the place maybe, it should serve the purpose of cremating the dead. There is no need to bury anyone," he said
Close Story