Congress stings Assam CM over Shah Rukh's phone call: 'People who became Sanghis…'
Jan 22, 2023 01:11 PM IST
The development comes a day after the CM had said "who is Shahrukh Khan? I don't know anything about him or his film Pathaan", while responding to queries by reporters about the violent protest by Bajrang Dal members.
Congress on Sunday took a swipe at Assam chief minister Himanta Biswa Sarma after he assured Bollywood actor Shah Rukh Khan that his government will ensure no untoward incident takes place during the screening of film 'Pathaan'. Congress' media and publicity department head Pawan Khera said that those who turned 'Sanghi' to form government have to become Congressmen to run the government on 'Raj Dharma', a Sanskrit term for duty of the rulers.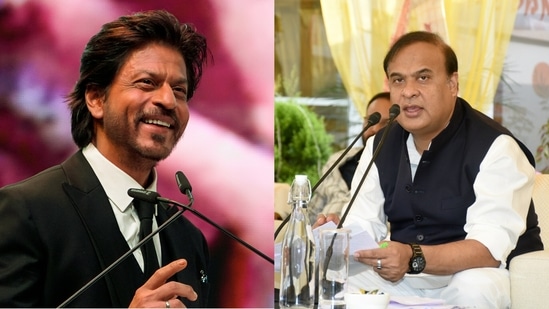 "People who became Sanghis to form the government also have to become Congressmen to run the government on Raj Dharma," Khera said in a tweet in Hindi.
His tweet came on the backdrop of Assam chief minister's comment on vandalisation of Pathaan film posters by a far right-wing group's volunteers in Guwahati. Several members of Bajrang Dal allegedly stormed into a cinema hall in Narengi area on Friday, vandalising property and burning down posters of 'Pathaan'.
When asked about the incident, Sarma on Saturday said "Who is Shah Rukh Khan? Why should we care? We already have many Shah Rukh Khans?"
"I have not heard about any movie by the name of 'Pathaan' and neither do I have any time for it," he added.
However, he ensured that he will act if any incident of law-and-order violation is reported.
"Action will be taken, if law and order is violated. But, so far, I have not received any complaints from the cinema hall owners or the makers of the film. If there has been any incident, Shah Rukh Khan, himself, should have called me up. If he does so, I will look into the matter," the Assam CM said.
On Sunday, Sarma said Shah Rukh Khan called him late night expressing concern over reported protests against his film release. Sarma said he has assured Shah Rukh that the state government will ensure no such untoward incident takes place again.
"Bollywood actor Shri @iamsrk called me and we talked today morning at 2 am. He expressed concern about an incident in Guwahati during the screening of his film. I assured him that it's duty of state govt to maintain law & order. We'll enquire and ensure no such untoward incidents," the BJP leader tweeted.