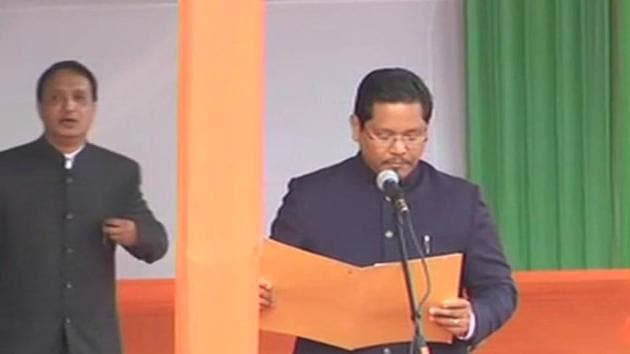 Conrad Sangma takes oath as Meghalaya's 12th CM, says focus on state's financial health
The ruling alliance will be headed by the National People's Party with 19 seats, and comprise the United Democratic Party (6 seats), People's Democratic Front (4 seats), Bharatiya Janata Party (2 seats) and one Independent.
Hindustan Times, Shillong | By David Laitphlang
UPDATED ON MAR 06, 2018 11:35 PM IST
Meghalaya's financial health is of utmost concern to new chief minister Conrad Sangma even as he pledged that his government will prioritise infrastructure, education and electricity.
Sangma, NPP national president, was sworn in as the state's 12th CM, along with 11 other cabinet ministers, of the state's first NPP-led government here on Tuesday. Sangma had a brief meeting with chief secretary Y Tsering and other senior officials on the fiscal health and issues for the government. "We have a lot of financial issues and it is a tough situation. We need to work sincerely and committedly in resolving these issues, especially the financial issue," he said.
Sangma was also confident that his government will be able to weather any problems arising out of a coalition. "With the kind of leaders we have in the government, I am confident whatever challenges we have in front of us, this coalition government will be able to face them," he said.
Sangma said that all member parties of the coalition will be equal partners in the Meghalaya Democratic Alliance (MDA). He said, "...we as a cabinet, as a government, and, in fact, all 60 MLAs and political parties will work together to take our state forward." The state government's priorities include infrastructure, electricity, education, agriculture, and tourism. Sangma sounded a note of warning, saying the sectors were in such bad state that it would take time for his administration to bring in positive changes.
Governor Ganga Prasad administered the oath of office and secrecy at a grand swearing-in ceremony at Raj Bhawan.
The other constituents of the newly sworn in MDA government include the BJP, and regional parties — UDP, HSPDP and PDF. The ministers include four from the NPP, three from the UDP, two from the PDF, and one each from the HSPDP and BJP.
The ceremony was attended by leaders including BJP bigwigs such as Union home minister Rajnath Singh, BJP chief Amit Shah, Arunachal Pradesh chief minister Pema Khandu, Manipur chief minister N Biren Singh, Assam chief minister Sarbananda Sonowal, and Nagaland chief minister-designate Neiphiu Rio.
Congress leaders, including former CMs DD Lapang and Mukul Sangma, also attended.
Of the ministers who were sworn in, four are from the previous Congress-led government. These are Prestone Tynsong, Sniawbhalang Dhar, Comingone Ymbon, and Alexander L Hek, who left the Congress and joined the NPP and BJP before the February 27 election. Conrad's elder brother James K Sangma, a two-time legislator from Dadenggre, was also accommodated.
Kyrmen Shylla, 29, a first-time MLA of UDP from Khliehriat constituency, is the youngest minister. The other two UDP legislators inducted are Metbah Lyngdoh and Lahkmen Rymbui.
Samlin Malngiang of the HSPDP and Hamletson Dohling of the PDF were also rewarded with cabinet berths for being giant-killers, as they defeated senior Congress leaders HDR Lyngdoh and Ronnie V Lyngdoh from Sohiong and Mylliem respectively. PDF MLA from Mawkynrew Banteidor Lyngdoh was also sworn in as a minister.
Close