Cyclone Kyant can spoil Diwali plans in Bengal, Odisha coast
Updated on Oct 25, 2016 05:47 PM IST
Met officials tracking the cyclone are hopeful that Kyant will not pack as much intensity as did its predecessors Aila, Phailin and Hudhud, even as fishermen have been warned not to venture out into the sea.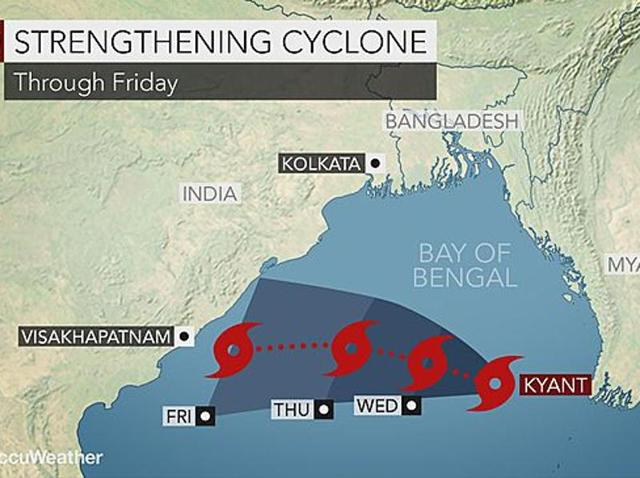 A cyclone packing winds up to 100 km per hour will smash into coastal Odisha later this week, met officials said on Tuesday, and potentially dampen Diwali celebrations in Bengal.
Cyclone Kyant, which means crocodile in the Mon language spoken in parts of Myanmar and Thailand, is also expected to dump heavy rains along the coast of the two states.
Indian Meteorological Department's cyclone warning division head M Mohapatra said the cyclonic depression was located 540 km northwest of Port Blair at around 5:30 am on Tuesday. "It is expected to intensify into a cyclone by Tuesday evening and reach the west-central area of Bay of Bengal (close to the Andhra Pradesh–Odisha coastline) by Friday," he added.
Though Kyant is not expected to be as devastating as earlier cyclones such as Aila, Phailin and Hudhud, fishermen have been warned not to venture out into the sea.
Phailin had killed 36 people in Odisha in 2013.
Though IMD officials were yet to ascertain the exact place and time the cyclone would hit the country's eastern coast, private weather forecasting agency Skyment said that it could hit north Odisha.
Experts said such developments are "common" in post-monsoon cyclone period. Cyclones Phailin and Hudhud battered the Odisha coast during the post-monsoon period in 2013 and 2014 respectively.
Sanjeeb Bandyopadhyay, deputy director general (meteorology) of IMD's regional office in Kolkata, said cyclones that form over the Bay of Bengal would either be those that develop over southeast Bay of Bengal and adjoining Andaman Sea, or were remnants of typhoons over northwest Pacific. "
They move across south-China Sea to Indian seas," he added. "Kyant was, however, born over the Bay of Bengal and not a remnant."
As the frequency of typhoons over northwest Pacific is high (about 35% of the global annual average), the Bay of Bengal also gets its increased quota.