Dalits, upper caste groups clash in Gujarat's Dholka over use of last name
May 23, 2018 12:36 PM IST
Police said the conflict involved 22-year-old Maulik Jadav, a Dalit, and some members of upper caste Darbar community.
Members of the Dalit and upper caste communities attacked each other in Dholka town of Ahmedabad district on Tuesday night over the use of the suffix 'sinh' traditionally added by Kshatriyas to their names in the state, police said on Wednesday.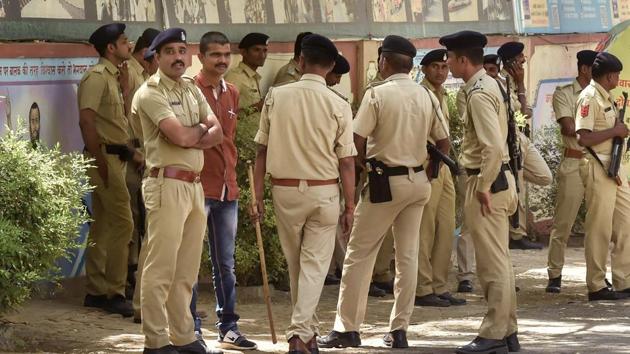 Dholka Police have registered three cases, including two for atrocity and one for damaging property and attack.
"Section 144 of the Indian Penal Code which prevents the gathering of more than four persons have been imposed and the situation is under control," Ahmedabad superintendent of police (rural) Rajendra Asari said.
"No one has been severely injured as well. Both the groups have registered counter complaints," he added.
Police said the conflict involved 22-year-old Maulik Jadav, a Dalit, and some members of upper caste Darbar community. Jadav added 'Sinh' to his first name on his Facebook profile earlier this month, which started a virtual war between the communities as members of both the groups abused each other on social media.
Some upper-caste men attacked Jadav and then his house on Tuesday, police said, which was followed by Dalits allegedly ransacking the house of a Darbar man.
Jadav, who runs tuition classes and is a supporter of Independent legislator from Vadgam Jignesh Mevani, said while speaking to reporters that he was intercepted by some men in a car.
"Its occupants then came out and started slapping me. I managed to escape and rushed to the police station. Later, my house was attacked in which a family member was injured," he said.
Jadav claimed he had been receiving threats from the members of the Darbar community for adding 'Sinh' to his name.
"In my Facebook profile, I changed my name from 'Maulik' to 'Mauliksinh' thinking we are free to keep the name of our choice. Soon, some Darbar youths started threatening me over the phone as well as on Facebook, asking me to remove 'Sinh' from my name or face the consequences," he said.
Dalits are at the bottom of India's ancient caste hierarchy and have historically faced various forms of discrimination, including segregation, social boycott and violence, by people from castes higher in the hierarchy.
Gujarat has witnessed many such caste and communal conflagrations, where Dalit men and women have been beaten up or killed.
Four Dalit men were beaten up in public by self-styled cow vigilantes in Una town two years ago. They were tied to a car, flogged and paraded half-naked for 15km only to be thrashed outside a police station on July 11, 2016, for allegedly skinning dead cattle.
The incident sparked outrage across the country and evoked a strong political response.