Doklam standoff ends: MEA says Modi to attend BRICS summit in China
Updated on Aug 29, 2017 03:25 PM IST
India on Monday said it agreed with China to pull back troops to end the months-long face-off along a disputed Himalayan region. Reports from Doklam suggested Beijing had halted work on a road that triggered the row.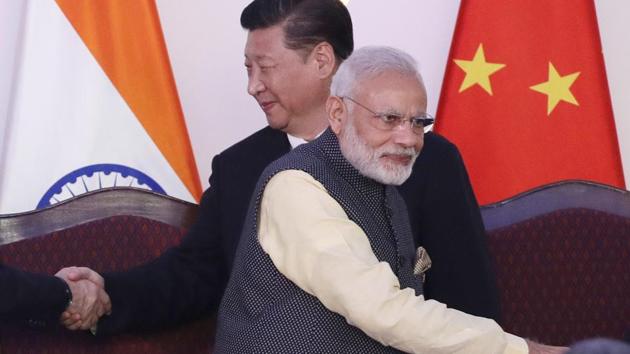 Press Trust of India, New Delhi |
Press Trust of India
Prime Minister Narendra Modi will visit China in the first week of September to attend a summit of BRICS nations, the ministry of external affairs said on Tuesday, a day after the Asian neighbours agreed to pull back troops to end a months-long face-off in the disputed Himalayan region of Doklam.
"At the invitation of the President of People's Republic of China, Prime Minister Narendra Modi will visit Xiamen in China's Fujian province during September 3-5, 2017 to attend the 9th BRICS Summit," the MEA said.
China said on Tuesday it hoped all BRICS nations -- Brazil, Russia, India, China, South Africa - -will play a role in the success of the grouping's upcoming summit. Chinese foreign ministry spokesperson Hua Chunying said the summit is the common cause of all the BRICS countries and ensuring its success serves their interests.
"We hope to get the support and coordination from all relevant parties," she said.
The decision to pull back troops put a lid on one of the most serious disputes between the nuclear-armed neighbours, who share a 3,500-km mountain frontier that remains un-demarcated in most places.
"Peaceful resolution of the issue through the diplomatic channels serves the common interests of all relevant parties," Hua said when asked whether China halted the work on a road in Doklam to end the standoff so that the BRICS summit could be held.
"It shows the sincerity and responsible attitude of China as a major country," Hua said.
When asked about the road construction in Doklam, Hua said China will take into consideration all relevant factors, including the weather, while building it.
"In order to meet the needs of defending the borders, improving the living conditions, China has long engaged in infrastructure development including the road construction," she said.
Hua reiterated "Chinese border troops will continue to station and patrol the Doklam area. We will continue to exercise our sovereignty with historic conventions."
She also parried a question whether China was in consultation with Bhutan, which protested the Chinese troops' road building in Doklam. "So far, we have resolved the issue of illegal trespass of the Indian troops," she said.
The BRICS countries are home to 42% of the world's population. Their total share in the global economy has risen from 12% to 23% in the past decade while contributing more than half of global growth.