Right to privacy: Data shows states using Aadhaar to build profiles of citizens
Aug 25, 2017 08:58 AM IST
Privacy concerns remains despite UIDAI claims that the Aadhaar project does not intrude upon the privacy of 1.1 billion Indians whose biometric and demographic information is stored on its servers
Fifteen minutes into a press conference on the landmark Supreme Court judgment guaranteeing privacy of individuals, Union law minister Ravi Shankar Prasad held up his Aadhaar card.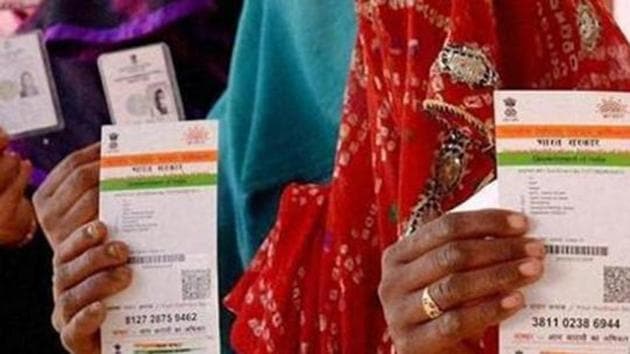 "It does not contain my father's name, my educational qualifications, a record of my diseases, my income, my religion, my community or any other thing by which I can be identified," Prasad said. "It works on a fine principle of minimum information, maximum use."
Yet, a review of government presentations and tender documents suggests that state governments are already using Aadhaar to build citizen databases that can collate all these data in a matter of minutes.
In its judgment, the nine-member bench observed that the government could mine data to ensure resources reached intended beneficiaries, but called for a data protection regime to protect privacy of the individual as well.
The next round of court arguments, lawyers and privacy advocates say, will reveal where this balance lies.
"The judgment is a sign of optimism because Aadhaar hearings will now have a more stringent standard of judicial scrutiny," said Apar Gupta, a lawyer involved in the Aadhaar case. "By linking privacy to all fundamental rights, this judgment broadens the scope of all these rights."
The Unique Identification Authority of India (UIDAI) insists the controversial Aadhaar project does not intrude upon the privacy of 1.1 billion Indians whose biometric and demographic information is stored on its servers.
"By design, the technology architecture of UIDAI precludes even the possibility of profiling individuals for tracking their activities," the authority stated in an affidavit to the Supreme Court in July. The authority said that government agencies "will never have or will not be able to build a 360-degree view of any of its customers or beneficiaries."
Privacy advocates disagree.
"If Aadhaar is seeded into every database, it becomes a bridge across discreet data silos, which allows any one with access to this information to re-construct a profile of my life," said Reetika Khera, associate professor of Economics at the Indian Institute of Technology, Delhi. Creation of such databases has already begun, she added.
For instance, in January last year, the Telangana government floated a tender for an "Integrated Information Hub (IIH) for achieving the objective of 360-degree profiling of persons of interest".
The IIH, the detailed project tender states, will use advanced data mining algorithms to analyse a list of attributes including Aadhaar numbers "to identity and group the records of a citizen or crime history of a citizen as well as identifying the relationships the person shares with others".
According to reports, the first trials of the IIH have begun for Hyderabad city, while the government is considering a state-wide rollout of the project.
Neighbour Andhra Pradesh has also built an Aadhaar-enabled digital People's Hub that uses Aadhaar to integrate information from every government department for "getting a 360-degree view of citizens". In a presentation at a national workshop on Direct Benefit Transfers on July 22, the IT advisor of AP, J Satyanarayana, described the hub as a "single source of truth on people data".
In September, Satyanarayana was appointed the UIDAI chairman, a position he still holds.
In December last year, a new agency said, Haryana signed a memorandum of understanding with the Andhra Pradesh government to replicate the People's Hub, suggesting that such databases are only likely to proliferate.