Yashwant Sinha to Varun Gandhi: From economic slump, GST to Rohingyas, BJP faces attack from within
Sep 28, 2017 10:44 AM IST
A few leaders from within the BJP have been openly critical of the central government's policies.
Yashwant Sinha is not the first leader from the ruling BJP alliance to criticise the government over its policies, though his attack is by far the most scathing and direct.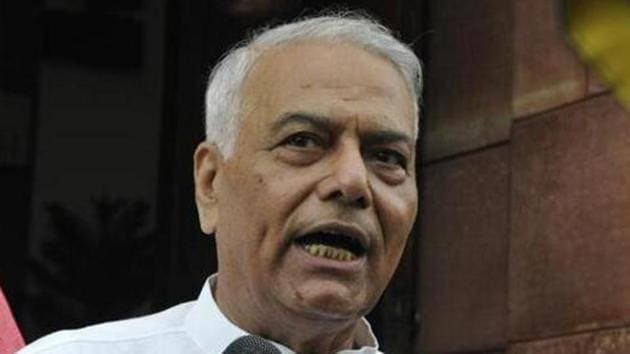 There is a small chorus of voices from within the party who have been openly critical of the central government's controversial economic decisions, especially demonetisation and GST. But a few of the party's leaders have also taken a dissenting line on other government decisions, such as the plan to deport Rohingyas refugees.
Here is what BJP's dissenters have to say:
Subramanian Swamy
BJP leader and Rajya Sabha member Subramanian Swamy told a TV channel earlier this month that the economy was in a tailspin and may "crash" if the Modi government does not follow urgent course correction.
"Today, the economy is in a tailspin. Yes, it can crash. We need to do a lot of good things to revive the economy. Even a tailspin can be made to steady. If nothing is done, we are heading for a major depression. There will be mass scale… banks might collapse, factories might start closing," Swamy told CNN-News18.
Swamy said he had written a 16-page letter to Prime Minister Narendra Modi warning about this. He also claimed that India's GDP was much lower than was being shown. "It is lower than what is being told to you, and it is going to decline," Swamy said.
Varun Gandhi
On Tuesday, BJP MP Varun Gandhi wrote an editorial piece for Navbharat Times, saying India must give refuge to Rohingya Muslims fleeing from violence in Myanmar after vetting them.
Gandhi's views were in a sharp contrast to the ruling government's stance on Rohingya.
Union minister of state for home affairs Hansraj Ahir rubbished Gandhi's views saying those who have national interest in mind should not make such statements.
"Jo desh ke hith mein sochenga woh is tarah ke bayan nahi dega (Anyone who has national interest in mind, won't make such statements)," Ahir told reporters in Delhi.
Arun Shourie
In January, former BJP leader Arun Shourie had minced no words while calling demonetisation the "greatest blunder in 70 years".
"Demonetisation is the symptom of a pattern of government where there is no consultation. It may happen again and again. The fact that somebody keeps winning elections is no reason to change our mind. Those who vote will vote on other considerations, and they do not know how economy should be run," Shourie said at a public event at the National Institute of Advanced Studies in Bengaluru.
The Sangh Parivar
RSS has also been critical of the government over its handling of GST and demonetisation.
Earlier this month, S Gurumurthy, RSS ideologue and economic commentator, said Indian economy is hitting the bottom. Gurumurthy was speaking at a public event on 'Demonetisation : Its role, Impact and Follow-up' in Chennai when he said, "I have a feeling we are hitting the bottom now. There is no way this situation can continue."
In June, just before GST was introduced, the Swadeshi Jagran Manch, an offshoot of the Sangh parivar, had criticised the government policy. "…Swadeshi Jagran Manch has been saying for long that though GST will make compliance easier for big businesses, multi state operators and TNCs ( transnational or multinational corporations), but at the same time onus of compliance for small scale industry may cause a host of problems...," SJM said in a press note.