Bengal doctors defy Mamata Banerjee's deadline, refuse to call off strike
A team of doctors met Governor Keshari Nath Tripathi at Raj Bhavan over the issue and said the chief minister's reaction to their protest was unexpected.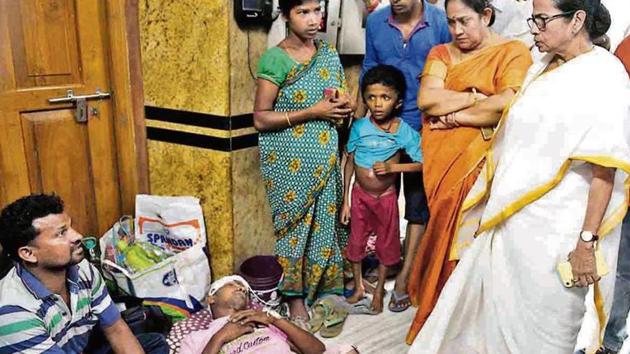 Updated on May 23, 2020 04:42 PM IST
Hindustan Times, Kolkata | By HT Correspondent
Striking junior doctors in West Bengal defied chief minister Mamata Banerjee's 2pm deadline to resume work or face action on Thursday, declaring that their agitation would continue till their demands for security on government hospital campuses are met and calling on Governor Keshari Nath Tripathi to apprise him of the situation.
The junior doctors have been on strike since Tuesday in protest against the brutal assault on two colleagues in Nilratan Sarkar Medical College and Hospital on Monday night by family members of an octogenarian patient who passed away. On Wednesday, several senior physicians stayed away from outpatients' departments (OPDs) in many state-run and private hospitals for a day.
The CM, who holds the health and family welfare portfolio, visited the state-run SSKM hospital around noon on Thursday in the wake of the continuing disruption in medical services and warned junior doctors of action if they did not resume work by 2pm.
Watch | 'Doctors protest in WB part of conspiracy by BJP, CPM': Mamata Banerjee
"Obstructing work in hospitals is a crime. The Essential Services Maintenance Act might be invoked. There are Supreme Court judgments that say doctors cannot strike work," she said.
Following the warning by Banerjee, emergency services started at SSKM Hospital and Burdwan Medical College. But junior doctors, as a whole, refused to buckle down.
A six-member team of junior doctors called on the Governor at Raj Bhavan. "We will continue with our agitation till our demands are fulfilled. Our demands are simple... proper security with armed policemen at all hospitals, arrest of culprits involved in the NRS attack on Saturday under non-bailable sections," one of them told reporters after the meeting.
Kingshuk Karmakar, who was among those who met the governor, said, "The moment armed policemen are deployed in state-run government hospitals to ensure our safety, we will resume work. The agitating doctors are not sitting at home but waiting on the hospital premises."
TV channels reported that as many as 18 doctors of the general medicine department of the College of Medicine & Sagore Dutta Hospital had offered to resign, saying it had become impossible to run services in the absence of junior doctors. However, hospital authorities did not respond to phone calls.
A section of the nursing staff joined the agitation at SSKM Hospital. Ananda Kishore Pal, an orthopaedic of SSKM Hospital, said senior doctors stood in solidarity with their junior colleagues, who took out a silent procession from the hospital premises in the afternoon.
"Junior doctors are the mainstay in any hospital. They are on call round the clock and form about 80% of the medics on the campus," said a doctor of Howrah district hospital, requesting anonymity.
Opposition leaders reacted sharply. "The chief minister is threatening doctors and ruining healthcare services to protect her committed voters," alleged BJP Bengal unit president Dilip Ghosh.
Banerjee said she had instructed Kolkata police commissioner Anuj Sharma to resume the practice of posting full-fledged police pickets in every hospital.
West Bengal Medical Council president Nirmal Maji said attacks on doctors had become a social disease. But he added, "Many patients also allege negligence by doctors against them."
(With agency inputs)
Close Story