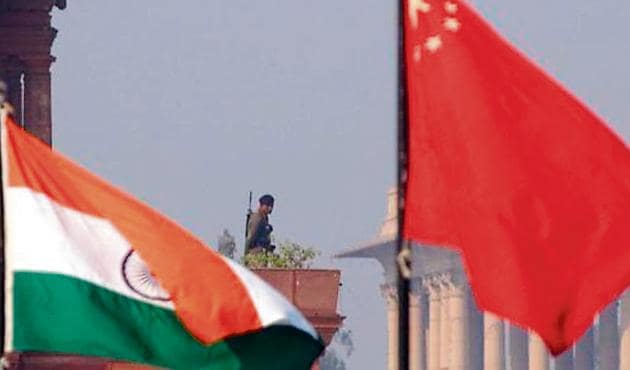 Doklam standoff | India should be ready for all-out confrontation: Chinese media
The Global Times piece was published after China's military said it conducted live-fire exercises in the remote mountainous Tibet region to test its strike capability on plateaus amid the standoff between Indian and Chinese troops in the Doklam.
Hindustan Times | By Sutirtho Patranobis
, Beijing
UPDATED ON JUL 19, 2017 12:27 AM IST
India should get ready for an "all-out confrontation" along the entire stretch of the disputed boundary with China, the country's state media said on Tuesday, threatening to open up new fronts of conflict on the 3,488 km non-demarcated border between the two countries.
China isn't afraid to go to "war" with India and will be ready for a long-term confrontation, the Global Times comment piece said.
The threat of new geographical points of conflict being opened up along the Line of Actual Control (LAC) comes amid the People's Liberation Army (PLA) recently carrying out live-fire drills in Tibet Autonomous Region (TAR) close to Arunachal Pradesh, claimed by China as part of south Tibet.
Read more: India rejects 'malicious' Pakistani media report of soldier deaths in Chinese attack
The continuing hostile posturing by China's state-controlled media is a crucial aspect of Beijing's overall aggressive stand taken on the ongoing military impasse at Donglang across the Sikkim border.
"China can take further countermeasures along the Line of Actual Control (LAC). If India stirs up conflicts in several spots, it must face the consequence of an all-out confrontation with China along the entire LAC," the nationalistic tabloid, Global Times, said in a comment piece on Tuesday. "China doesn't advocate and tries hard to avoid a military clash with India, but China doesn't fear going to war to safeguard sovereignty either, and will make itself ready for a long-term confrontation," it added.
Affiliated to the Communist Party of China (CPC) mouthpiece, People's Daily, the Global Times has been on the forefront of Chinese media's editorial attack on India. Its battle-plan is short and simple – obfuscate New Delhi's points of view on the current impasse and peddle China's deliberately one-sided view of the situation.
For one, the GT article claimed that since the 1962 war, it is only India that has provoked China along the border, conveniently not mentioning the incursions made by the PLA's border troops over the decades.
"The 3,500-kilometer border has never been short of disputes. Since the 1962 border war, the Indian side has repeatedly made provocations. China must be prepared for future conflicts and confrontation. China can take further countermeasures along the Line of Actual Control (LAC)," wrote GT's Duo Mu in the newspaper.
"If India plans to devote more resources in the border area, then so be it. China can engage in a competition with India over economic and military resources deployment in the border area," the newspaper wrote.
The article mentioned China's superior military and economic infrastructure in the Sino-India border region, and how that's an advantage.
"With growing national strength, China is capable of deploying resources in remote border areas. It is conducive to the economic growth of these regions, as well as to safeguarding integration of China's territory. Road and rail in the Tibetan area have been extended close to the border area with India, Nepal and Bhutan. It's a competition of military strength, as well as a competition of overall economic strength," it said.
The author said in China "…there are voices calling for the Indian troops to be expelled immediately to safeguard the country's sovereignty, while Indian public opinion is clamoring for war with China. However, the two sides need to exercise restraint and avoid the current conflict spiraling out of control."
China has blamed India for the ongoing Donglang (Doklam) impasse, accusing Indian soldiers of trespass and preventing Chinese soldiers from building a road in the region, which is also claimed by Bhutan.
Beijing wants India to withdraw its troops from Donglang before the two sides can open talks. New Delhi says the road, if built, will have serious security implications for India.
Close