Doval, Trump's NSA-designate discuss Indo-US strategic ties in Washington
National security advisor Ajit Doval has met US president-elect Donald Trump's NSA-designate Gen (rtd) Michael Flynn and is believed to have discussed a wide range of regional and global strategic issues and explore ways to further Indo-US ties.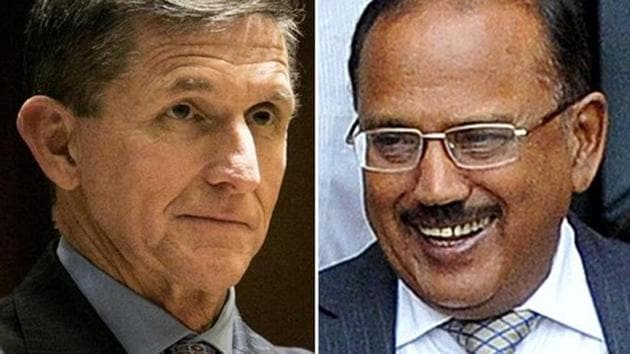 Updated on Dec 20, 2016 11:47 AM IST
Washington, Hindustan Times |
Yashwant Raj
National security adviser (NSA) Ajit Doval met his counterpart in the incoming Trump administration, retired general Michael Flynn, and held wide ranging discussions about "regional and global issues" in Washington on Monday.
This was the third senior level engagement between India and the Trump administration starting with Prime Minister Narendra Modi's congratulatory call to the president-elect within hours of his election.
The second was a "round of talks" foreign secretary S Jaishankar held with senior officials of the Trump transition team some weeks ago in New York. No details were available of the discussions, except that there were several meetings.
Doval's meeting was the third senior-level engagement, held at the incoming administration's transition team headquarters in DC on Flynn's invitation, according to sources from the team.
Neither side provided details of the conversation, but sources said the two officials — both with backgrounds in intelligence work and counterterrorism — spoke for over and hour and "connected well".
Doval, an officer of the Indian Police Service, has become a legend for his counter-terrorism and counter-espionage operations done with the Intelligence Bureau, an agency he later headed.
Flynn rose to acclaim as an intelligence officer at the US Defense Intelligence Agency and played a significant role in dealing with insurgency in Iraq and Afghanistan, emphasising the importance of intelligence.
While Doval retired from active service with accolades, Flynn was forced out of the Obama administration, by his own admission, because of his sharp-elbows and strong views on what needed to be done, especially terrorism.
Doval's meeting with Flynn was also described as one about "getting to know each other" — they had never met before — and one that would be crucial in driving the relationship between India and the US.
The national security team at the White House, with the NSA sitting just a couple of doors from the Oval Office, has come to exercise outsized power in the conduct of foreign policy in recent administrations.
And Flynn, who became Tump's go-to adviser on national security affairs, is believed to have the president-elect's complete attention and trust on national security matters.
Doval's meeting with him is crucial to the future of ties, more so because not much is known about where Trump's nominees for secretary of state, Rex Tillerson, and secretary of defence, James Mattis, stand on India.
Doval is also scheduled to meet Susan Rice, his counterpart in the Obama administration, possibly for the last time in their current official capacity.
Also read | Would be good to see India-US ties strengthening under Trump govt: White House
Close Story