Na AAP ka na kisi aur ka: Ducking questions, Sidhu keeps adversaries guessing
what next? By delaying announcement of his next move, pro-Sidhu sentiment in poll-bound Punjab has started ebbing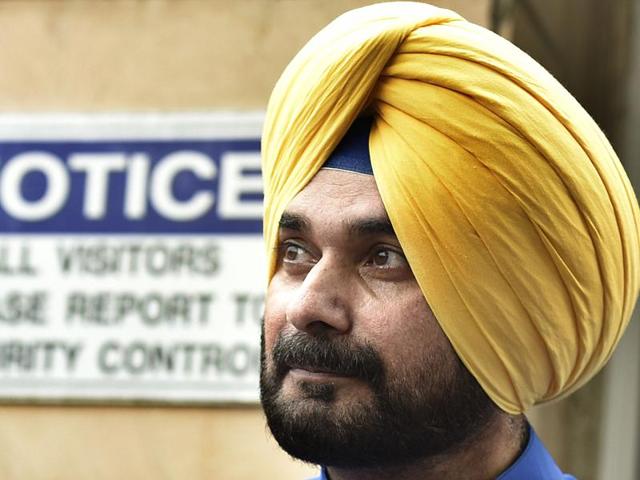 Updated on Jul 26, 2016 07:43 AM IST
A distinct pattern emerges from the haze surrounding the much-awaited next move of cricketer-turned-politician Navjot Singh Sidhu, a week after his dramatic resignation from the Rajya Sabha.
By carefully ducking pointed questions during the eight-minute press conference in Delhi on Monday and desisting from making public his next destination, Sidhu has attempted to keep his political adversaries guessing.
Political analysts say Sidhu's attempt to 'confound and confuse' people before making the ambitious gambit public, indicates his ostensible "hard-bargaining" with the AAP despite behind-the-scene deal in the run-up to quitting the Rajya Sabha seat on July 18.
His resignation, within three months after nomination to Rajya Sabha, was billed as having potential to trigger a seismic shift in poll-bound Punjab. But, by delaying to announce the next move, the pro-Sidhu sentiment in Punjab has started ebbing. And his credibility has also begun coming under the cloud.
The former Amritsar MP is yet to clarify whether he is in the BJP or not. He repeatedly said on Monday that he has resigned from Rajya Sabha—triggering speculation about his BJP membership.
His wife, Navjot Kaur — a BJP MLA in Punjab — said the AAP was the only option for her husband. His resignation from Rajya Sabha implied a resignation from the BJP, she said, but her husband kept up the suspense on Monday.
As on now, he continues to be keen on not two boats, but multiple boats. With the AAP having gone overboard in claiming that he was joining the party and the Congress also expressing its willingness to induct him, his options continue to remain open and many.
"Sidhu has not closed categorically his doors with the BJP. It seems the former India cricket team opener has misread the AAP pitch. He has belied lots of expectations in his home state," a political analyst, who didn't want to be identified, said. While Punjab Congress chief Captain Amarinder Singh has invited Sidhu to join the party, the AAP also wants to grab him to outsmart the Congress in its race for power in Punjab.
Though in Sidhu the AAP sees a crowd-puling Sikh face which it needs desperately, the signals emanating from the rookie party are confusing. Punjab's AAP leaders have been saying Sidhu will not be projected as the CM face of the party. Such conflicting statements by AAP leaders in Punjab is said to be another reason behind the delay in Sidhu's formal entry into the party. Unlike in the game of cricket, where Sidhu was an aggressive front-foot player hitting the ball hard, he is playing it very safe and defensive in politics. Sidhu also sounded diplomatic by saying that he resigned from Rajya Sabha as he was asked to "keep away" from Punjab.
Capt Amarinder Singh was quick to respond to this. "Sidhu's revelations have vindicated our stand that Akalis and BJP were partners in sins of omission and commission and may be they were apprehensive that he (Sidhu) might expose them. Thus, they gagged him," he said.
Close Story