EPS asks Tamil Nadu governor to take action against DMK's 'corrupt practices'
Updated on Nov 24, 2022 02:43 PM IST
On the Coimbatore blast, he said the October 23 Coimbatore car explosion, in which the alleged perpetrator was killed, could have been averted if the government acted in time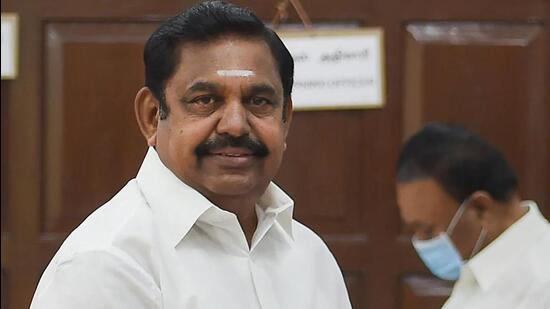 Tamil Nadu's leader of the opposition and All India Anna Dravida Munnetra Kazhagam (AIADMK) interim general secretary Edappadi Palaniswami (EPS), accompanied by senior leaders, made their way to the Raj Bhavan on Wednesday and complained to governor R N Ravi about deteriorating law and order in the state and also levelled corruption allegations against the ruling DMK.
EPS alleged the "sole aim" of the ruling DMK government is "corruption, collection, and commission" besides failure to maintain law and order. He handed over an 18-page document to the governor. "He (governor) told us that he will read everything and inquire," said EPS talking to reporters after the meeting.
Also Read: ED attaches assets belonging to former officials of DMK govt
Crime including murders has become a daily affair and ''all this was happening due to an inefficient puppet chief minister ruling the state'', Palaniswami said.
On the Coimbatore blast, he said the October 23 Coimbatore car explosion, in which the alleged perpetrator was killed, could have been averted if the government acted in time.
He accused chief minister M K Stalin of not being concerned about the crime before it was handed over to the National Investigation Agency (NIA).
EPS said it is not only, "a failure of the state intelligence agency but also shows the incompetence of the state police."
Meanwhile, the ruling DMK-led Secular Progressive Alliance's parliamentarians have sent a request to President Draupadi Murmu over the removal of Ravi as the governor accusing him of unconstitutional conduct.
MPs of DMK and its allies submitted to the president on November 9 saying the governor is making communal statements. DMK also accused the governor of not acting on the 20 bills passed in the Tamil Nadu legislative assembly which are pending since his appointment in September 2021.
On this, EPS opined the governor is functioning as he should be. "That is why the corrupt DMK is calling the governor a bad person," EPS said. "As a responsible opposition, we have given the complaints to him. Only the governor can investigate it," he added.
AIADMK in its complaint also brought up the issue of riots which broke out following the suicide of a school student in Kallakurichi in July. Accusing the DMK of free-flowing drugs and alcohol shops under their regiment, EPS urged the governor to take action. "While drugs were free-flowing, on the contrary medicines were running short in government hospitals. Every department is corrupt," EPS alleged.
EPS was accompanied by former ministers and senior leaders C V Shanmugham, S P Velumani, D Jayakumar and other senior leaders Natham R Viswanathan, Dindigul Srinivasan and K P Munusamy.
Personalise your news feed. Follow trending topics