Ex-armyman, cameraman, brother: Friends remember Doordarshan video journalist
Updated on Oct 30, 2018 07:27 PM IST
Doordarshan video journalist Achyuta Nanda Sahu and two policemen were killed in a Maoist ambush in Chhattisgarh's Dantewada on Tuesday. Two policemen were also injured in the attack.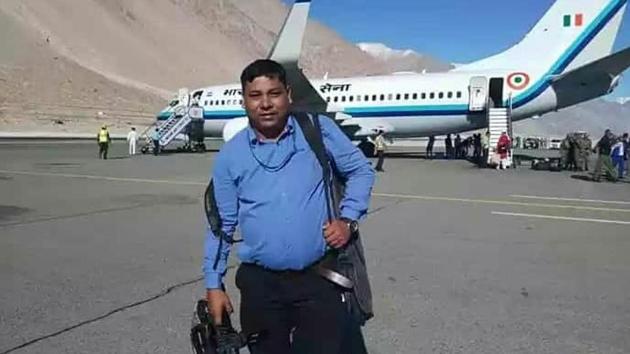 Hindustan Times, Bhubaneswar |
Debabrata Mohanty
Doordarshan video journalist Achyuta Nanda Sahu, who died in a Maoist attack in Dantewada on Tuesday, was always the one to immerse himself in work, even if it meant missing his annual visit to his native village in western Odisha district of Bolangir.
Sahu, who was killed along with two policemen in Dantewada, had landed there a day ago for election coverage and was on his way to film a Maoist-affected village that was voting after 20 years. An excited Sahu had posted about his assignment on Facebook, just five hours before the attack.
"For him work mattered more than anything else. He used to tell me money does not matter. Though he used to visit his village Ghusurimunda in Loisingha block every year during Nuakhai festival, this year he let it pass due to election. He was energetic and never said no to work. He would always speak about his work with lot of enthusiasm," said his friend Manoranjan Badtya, video editor in Film Division, Mumbai.
Badtya was a year senior to Sahu in the 3-year-diploma course in cinematography in state-funded Biju Patnaik Film and TV Institute, Cuttack but they were more like friends. An emotional Badtya, later posted this message on Facebook: "U made us proud Achyuta Nanda Sahu....An Ex-army ,a cameraman,a brother, a friend. Still I'm not believe this bro. where ever u are, pls come back."
Friends said due to his attitude towards work, he got big assignments and was a permanent fixture with PM Modi's entourage. In the last three years he travelled to 14 countries, including China and Japan.
Sahu, the youngest of four brothers, had initially joined Army as a clerk, but took VRS due to some injury. He then joined the 3-year-diploma course in cinematography at Biju Patnaik Film and TV Institute, Cuttack in 2008. After passing out in 2011, he did some freelance work before joining Doordarshan in 2013.
"He was very popular in our institute and always wanted to learn," said his lecturer Suvra Ray. His batchmate and Odishi dancer Falgu Satpathy remembers him as a man with "smiling face". "He was very down to earth and would always be ready to help. He was a happy person and would smile no matter what the situation was. I had last spoken to him two months ago. I can't believe he is not there," said a shocked Satpathy.
Sahu is survived by his wife. His parents are now on a pilgrimage to Haridwar.
Personalise your news feed. Follow trending topics