Exclusive excerpts from Amitav Ghosh's yet-to-be released book
Jun 07, 2016 08:29 PM IST
Exclusive Excerpts: The following excerpts are from The Great Derangement:Climate Change and the Unthinkable, Amitav Ghosh's new non-fiction book, published by Penguin, which will release on July 12
Exclusive Excerpts: The following excerpts are from The Great Derangement:Climate Change and the Unthinkable, Amitav Ghosh's new non-fiction book, published by Penguin, which will release on July 12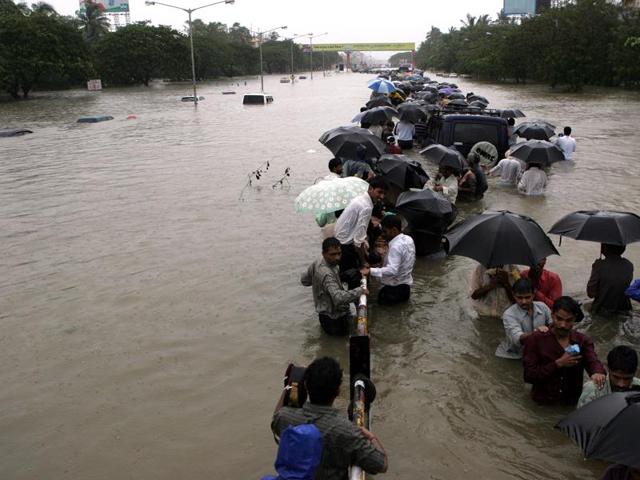 Lessons from the Mumbai floods
What might happen if a Category 4 or 5 storm, with 240 kmph or higher wind speeds, were to run directly into Mumbai?... One such occurred on 26 July 2005, when a
downpour without precedent in Mumbai's recorded history descended on the city…On that day, with catastrophic suddenness, the people of the city were confronted with the costs of three centuries of interference with the ecology of an estuarine location…. What does Mumbai's experience of the downpour of 2005 tell us about what might, or might not, happen if a major storm hits the city? The events will, of course, unfold very differently: to start with, a cyclone will arrive not with a few hours' notice, as was the case with the deluges, but after a warning period of several days. Storms are now so closely tracked, from the time they form onwards, that there is usually an interval of a few days when emergency measures can be put in place. Of these emergency measures, probably the most effective is evacuation.
In historically cyclone-prone areas, like eastern India and Bangladesh, systems have been set up to move millions of people away from the coast when a major storm approaches; these measures have dramatically reduced casualties in recent years. But the increase in cyclonic activity in the Arabian Sea is so recent that there has yet been no need for large-scale evacuations on the subcontinent's west coast. Whether such evacuations could be organized at all is an open question…
In Mumbai, disaster planning seems to have been guided largely by concerns about events that occur with little or no warning, like earthquakes and deluges: evacuations usually follow rather than precede disasters of this kind. With a cyclone, given a lead-up period of several days, it would not be logistically impossible to evacuate large parts of the city before the storm's arrival: its rail and port facilities would certainly be able to move millions of people to safe locations on the mainland. But in order to succeed, such an evacuation would require years of planning and preparation; people in at-risk areas would also need to be educated about the dangers to which they might be exposed. And that exactly is the rub — for in Mumbai, as in Miami and many other coastal cities,
these are often the very areas in which expensive new construction projects are located. Property values would almost certainly decline if residents were to be warned of possible risks—which is why builders and developers are sure to resist efforts to disseminate disaster-related information. One consequence of the last two decades of globalization is that real estate interests have acquired enormous power, not just in Mumbai but around the world; very few civic bodies, especially in the developing world, can hope to prevail against construction lobbies, even where it concerns public safety. The reality is that 'growth' in many coastal cities around the world now depends on ensuring that a blind eye is turned towards risk.
When gravity became a wheel
On the afternoon of 17 March 1978, the weather took an odd turn in north Delhi. Mid-March is usually a nice time of year in this part of India: the chill of winter is gone and the blazing heat of summer is yet to come; the sky is clear and the monsoon is far away. But that day dark clouds appeared suddenly and there were squalls of rain. Then followed an even bigger surprise: a hailstorm.
I was then studying for an MA at Delhi University while also working as a part-time journalist. When the hailstorm broke, I was in a library. I had planned to stay late, but the unseasonal weather led to a change of mind and I decided to leave. I was on my way back to my room when, on an impulse, I changed direction and dropped in on a friend. But the weather continued to worsen as we were chatting so after a few minutes I decided to head straight back by a route that I rarely had occasion to take.
I had just passed a busy intersection called Maurice Nagar when I heard a rumbling sound somewhere above. Glancing over my shoulder I saw a grey, tubelike extrusion forming on the underside of a dark cloud: it grew rapidly as I watched, and then all of a sudden it turned and came whiplashing down to earth, heading in my direction.
Across the street stood a large administrative building. I sprinted over and headed towards what seemed to be an entrance. But the glass-fronted doors were shut, and a small crowd huddled outside, in the shelter of an overhang. There was no room for me there so I ran around to the front of the building. Spotting a small balcony, I jumped over the parapet and crouched on the floor.
The noise quickly rose to a frenzied pitch, and the wind began to tug fiercely at my clothes. Stealing a glance over the parapet, I saw, to my astonishment, that my surroundings had been darkened by a churning cloud of dust. In the dim glow that was shining down from above, I saw an extraordinary panoply of objects flying past — bicycles, scooters, lamp posts, sheets of corrugated iron, even entire tea stalls. In that instant, gravity itself seemed to have been transformed into a wheel spinning upon the fingertip of some unknown power.
I buried my head in my arms and lay still. Moments later the noise died down and was replaced by an eerie silence. When at last I climbed out of the balcony, I was confronted by a scene of devastation such as I had never before beheld. Buses lay overturned; scooters sat perched on treetops; walls had been ripped out of buildings, exposing interiors in which ceiling fans had been twisted into tulip-like spirals. The place where I had first thought to take shelter, the glass-fronted doorway, had been reduced to a jumble of jagged debris.
The panes had shattered and many people had been wounded by the shards. I realized that I too would have been among the injured had I remained there. I walked away in a daze…
The headlines of 19 March read, 'A Very, Very Rare Phenomenon, Says Met Office': 'It was a tornado that hit northern parts of the Capital yesterday — the first of its kind. . . . According to the Indian Meteorological Department, the tornado was about 50 metres wide and covered a distance of about five km in the space of two or three minutes.'
This was, in effect, the first tornado to hit Delhi — and indeed the entire region — in recorded meteorological history. And somehow I, who almost never took that road, who rarely visited that part of the university, had found myself in its path.
Only much later did I realize that the tornado's eye had passed directly over me. It seemed to me that there was something eerily apt about that metaphor: what had happened at that moment was strangely like a species of visual contact, of beholding and being beheld.