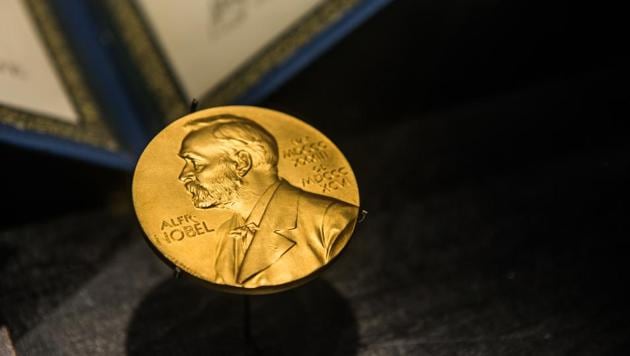 Meet the 'Nobel laureate' who is contesting elections in Bengal
Pinaki Ranjan Bharati from North 24 Parganas certainly thinks he has been 'nominated and selected' for the Nobel Peace Prize and even declared it in affidavits submitted to the Election Commission of India.
UPDATED ON DEC 28, 2016 10:41 AM IST
Ever heard of a Nobel laureate contesting elections in India?
Pinaki Ranjan Bharati from North 24 Parganas certainly thinks he has been 'nominated and selected' for the Nobel Peace Prize and even declared it in affidavits submitted to the Election Commission of India.
Bharati, 66, is the founder-president of a political party with the weirdest name - The Religion of Man Revolving Political Party of India. It is one of the 31 registered unrecognised political parties in West Bengal.
Even as the EC has cancelled the registration of five unrecognised political parties in Bengal for not contesting a single election between 2005 and 2015, Bharati's party did not have to face the axe, as he has been contesting all major elections in the state since 2006.
A 30-second video made for his 2016 election campaign also introduced him as a Nobel laureate.
Read | Twenty 20 to Bolshevik: Parties with quirky names draw EC's attention
"Yes, I am a Nobel laureate now. I was nominated for the prize long back and was selected in 2008. I'm expecting the medallion, certificate and the prize money anytime soon," Bharati told Hindustan Times over the phone.
Though his 2011 assembly election affidavit claimed he was nominated for the Nobel, the 2014 affidavit said that he was also selected for the award.
Tracking him down proved difficult. The address of his political party is 'Kabitirtha, Kabitanagar, Po + Ps – Bongaon – 743235'. But there is no place called Kabitanagar in Bongaon, a town close to the India-Bangladesh border in North 24 Parganas district.
The phone numbers in affidavits submitted in different years no longer belong to him. He lives in Subhasnagar and, as this correspondent found out, has himself rechristened it Kabitanagar, literary meaning 'the land of poetry'.
Understandably, from the post office staff to the local Trinamool Congress MLA Biswajit Das, no one had any clue about Kabitanagar.
Kabitirtha is a dilapidated one-storied, primary school-like structure along Jessore Road that Bharati dreamt of turning into a college for music and arts with himself as its principal but is yet to obtain any affiliation.
Outside the entrance, banners proudly declare that it houses the college and the office of the political party. Bharati is a 'mahamanab' (great man) and Nobel laureate, the banners claim.
"My college was caught in a legal tangle but we have recently won the battle in the high court of Calcutta. Once I receive the prize money for the Nobel, all of it will be used to turn Kabitirtha into a massive centre for excellence – just like Tagore used his prize money for Visva Bharati," he said.
In the 2006 assembly elections, Bharati contested from Bolpur in Birbhum district and Bongaon in North 24-Parganas district and obtained 1,190 and 1,565 votes, respectively. In 2011, he got 995 votes contesting from Bongaon North assembly seat. In the 2014 parliamentary elections, he secured 1,071 votes contesting from Bongaon and in the 2016 assembly elections, 537 voters of Bongaon North Assembly seat favoured him.
Despite securing negligible votes each time, Bharati is confident that it is only his outfit that can solve all the problems of the world. "Tagore is our guiding spirit. The Religion of Man is the greatest religion. In another few years, ours will be the only party reigning the world," Bharati humbly said.
Local residences have varied opinions of him. A local tea stall owner said he is 'lunatic', while the owner of a photocopy centre said 'he is a harmless person engrossed in his own world'.
Bharati told HT that no one has approached him since November 8 – the day Prime Minister Narendra Modi announced demonetisation of Rs 500 and Rs 1,000 notes – offering donations in demonetised notes, or that he made any deposits in his party's bank account recently.
"Our party hardly gets donations. But I am optimistic that people will soon realise that only our party is guided by the correct ideology to save the world," Bharati said.
Close