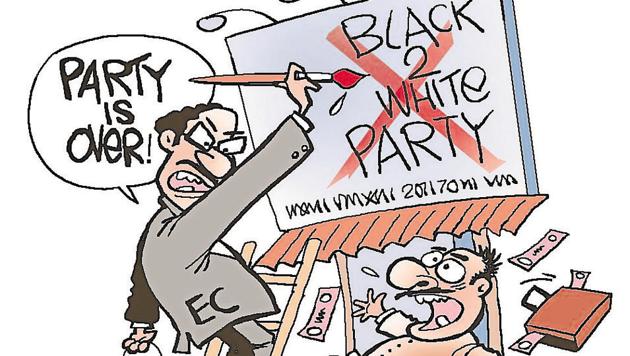 Twenty 20 to Bolshevik: Parties with quirky names draw EC's attention
The Election Commission has decided to delist 200 political outfits that have not contested elections in the past decade, and have also not filed their returns.
New Delhi, Hindustan Times | By HT Correspondent
UPDATED ON DEC 24, 2016 08:39 AM IST
If West Bengal's North Parganas is home to the office of The Religion of Man Revolving Party of India, Kerala's Ernakulum district hosts the Twenty 20 party. In Haryana's Sheria village there is a party with an ambition that is over-arching, the Corruption Abolition Party, while Uttar Pradesh — a state that is not particularly at the edge of technology — hosts the Hi-Tech Party.
One may not have heard of these names but they are legitimate political parties, registered with the Election Commission of India. There are 1,786 such registered, but unrecognised parties in the country besides the seven national and 50 plus state level parties.
The EC has now decided to delist 200 of these formations, which have not contested elections in the past decade, and have also not filed their returns. Some are even understood to be fronts for money laundering. Hindustan Times does not have a list of the parties the EC may delist, but a scan of party names show how frivolous some of them may be.
Read | Election Commission delists 255 political parties existing only on paper
Explaining the phenomenon, SY Quraishi, former chief election commissioner said, "There are different motivations which lead to the formation of these parties. Some are born out of personal ego of individuals to earn some social status. Some people are over-ambitious, and think registering parties will result in election victories and they will become PM. Then, there are parties that are born out of naiveté."
A few other parties that form a part of India's crowded political landscape include Aap Sabki Apni Party, which operates out of a flat behind the old bus stand in Chhattisgarh's Bilaspur. Indore hosts The Imperial Party of India while the plush locality of GK-1 in south Delhi houses the Bharat Bachao Party of India. Nagpur, home to the RSS, is also home to the Bolshevik Party of India, a century after the Russian revolution took place.
Jammu and Kashmir may be in the news for militancy and radicalisation but there is another kind of revolutionary outfit in Uddhampur – Front of Revolutionished Creative Efforts.
According to Quraishi, the easy process involved in the formation of a party is also a reason for a number of 'quirky' political outfits coming up.
"Hundred or so people have to submit signatures – earlier it was only nine or 11. They have to show some evidence of holding meetings, an advertisement is then issued to check if anyone has objections to such a party being registered. It is then checked if the name they propose has already been taken, and if so, another name is given. That is why they end up with funny or quirky names."
In 2003, parties' funds were given tax exemption, which Quraishi said was also a motive behind the formation of a lot of unrecognised parties. "We suspect that many came up to convert their black money into white and collect money without liabilities."
Read | As polls loom ahead, EC seeks ban on anonymous political donations above Rs 2000
Quraishi added that only a small number of these parties actually contested polls. "Some may be fronts for laundering, but many may be dead or defunct."
In an earlier judgment, the Supreme Court had said the power to register does not automatically give the EC the power to deregister parties, which meant many remained on the list. "Political parties have been cavalier and have not passed the legislation which will empower the EC to do so. It is now using extraordinary powers under Article 324 – which created the institution – to deregister these parties, and I support it," he said.
Also read | Election body to ask I-T department to look into finances of delisted parties
Close