Why India needs to cosy up to Myanmar's Aung San Suu Kyi
That India has to engage with whoever is in power with a country which shares 1,643 km land boundary with India's four northeastern states made sense.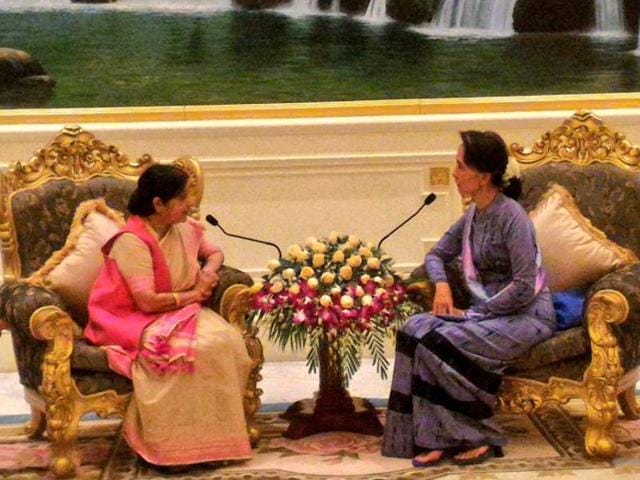 Updated on Aug 23, 2016 09:38 AM IST
Any tactical decision has a shelf life. And it calls for a shifting of gears at the right moment.
When India warmed up to the military junta in Myanmar, it was touted as a tactical decision. That India has to engage with whoever is in power with a country which shares 1,643 km land boundary with India's four northeastern states made sense. China making heavy investments to spread its strategic footprint in Myanmar lent urgency to the Indian move. It angering Aung San Suu Kyi was something India could live with as long as junta was in power, it was reasoned.
Suu Kyi had long ties with India, a lot of it through nostalgia, which couldn't have come in the way of taking tactical decisions dictated by realpolitik. In the mid 1990s, India began cosying up with the junta and since 2000, this policy made rapid progress, primary driven by the security concerns.
But the Chinese made better sense of the winds of change blowing in Myanmar. The tectonic change ushered in Suu Kyi's National League for Democracy in a landslide election victory last year, bringing the curtains down on five decades of military rule.
Chinese foreign minister Wang Yi came to visit Myanmar on April 5 this year. Suu Kyi's National League for Democracy was sworn in on March 30. External affairs minister Sushma Swaraj visited Myanmar on August 22, to become the highest-ranking Indian official to visit that country.
Read | Will not allow any anti-India activities: Myanmar to India
India's concerns
Her visit just followed a five-day high-octane visit Suu Kyi made to China. Suffice to say in more ways than the one that the Chinese saw what was coming and shifted the gears to engage with the new leadership in Myanmar.
But that is one part of the story. For India, there are immediate domestic concerns to be taken care of through maintaining ties with Myanmar than pursuing any geopolitical games on the regional chess board.
Myanmar shares land boundary with four northeastern states. It also shares a maritime border with India. The practice of insurgent groups making Myanmar as a safe haven has long troubled India. There have been successes on the security cooperation.
But more distance needs to be covered. It is not that any great ideals of altruism that lead China to play in the reconciliation process of various ethnic groups. China supports it because a Myanmar riled by such conflicts hamper China's economic interests. There are many projects, including building a road and rail network across northern Myanmar to the Bay of Bengal, which would help Beijing to step up China's trade with West Asia without taking the contentious South China sea route.
But a policy that aims at creating an impression that India is competing with China in Myanmar wouldn't help the Indian cause much. Indian efforts should be to engage with the new leadership in Myanmar, in offering help in the process of reconciliation of various ethnic groups and continuing with the cooperation in various fields. External affairs minister invited Suu Kyi to visit India at an early date. And that visit will provide an opportunity to build on Swaraj's engagment.
There are issues that need to be sorted. On Indian operations against the NSCN (Nationalist Socialist Council of Nagaland) camps along the India-Myanmar border in June, Suu Kyi told journalist Karan Thaper in an interview that said it was "important to have transparency when it comes to hot pursuit missions".
"The lack of transparency erodes the very foundations of friendship," she had said.
"If we as neighbours are to establish peace on our borders and genuine understanding between our two countries, there has to be more transparency. It's the lack of transparency that creates all kinds of speculation and suspicion," she had said.
There is enough catching up to do bilaterally. And it is quite evident.
Close Story