Fresh arrests signal new direction in Dabholkar probe
The charge sheet named Virendrasinh Tawde, a member of the extremist organisation Sanatan Sanstha, as the mastermind of the crime. Dayal said the new suspected shooters were also in touch with Tawde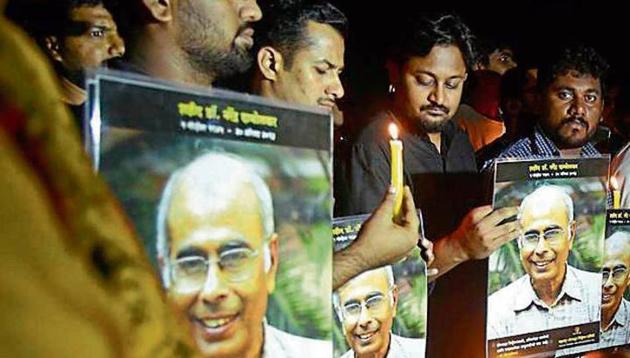 Updated on Aug 22, 2018 11:12 PM IST
HIndustan Times, Mumbai/New Delhi | By HT Correspondents
, Mumbai/new Delhi
The recent arrest of two men, Sachin Andhure and Sharad Kalaskar, alleged to have shot dead rationalist Narendra Dabholkar in Pune in 2013, appears to have scotched earlier suspicions of the Central Bureau of Investigation on two other men, Vinay Pawar and Sarong Akolkar, as the shooters.
Based on eyewitness accounts and sketches, investigators initially suspected Pawar and Akolkar but they were not charged in the case, though their names figured in the charge sheet filed on September 6, 2016, and they remained prime suspects. "Now, new investigation leads show that another of set of shooters may have been involved in killing of Dr Dabholkar since what they have narrated to investigators also matches with the other accounts that the CBI has gathered," said CBI spokesperson Abhishek Dayal.
The charge sheet named Virendrasinh Tawde, a member of the extremist organisation Sanatan Sanstha, as the mastermind of the crime. Dayal said the new suspected shooters were also in touch with Tawde. "During his questioning, Kalaskar admitted his direct role in the murder of Dabholkar. Kalaskar was driving the bike, and Andhure was riding pillion. Andhure fired two rounds from the pistol," said a police officer privy to the investigation on the condition of anonymity. Kalaskar's profile matched with the sketch Pune police had prepared based on eyewitness accounts, added the officer.
Five years ago, two motorcycle-borne assailants fired three to four rounds of bullets on Dabholkar while he was out walking at the Omkareshwar bridge in Pune on August 20. A doctor, writer and rationalist, Dabholkar was widely respected in Maharashtra and wrote extensively in Marathi against superstition. He was part of several anti-superstition bodies and had tried several times to institute state legislation against black magic and superstition.
On Tuesday, a joint team of the Maharashtra Anti-Terrorism Squad (ATS) and CBI recovered a 7.65mm countrymade pistol, three live cartridges, a dagger, one air pistol and a sword, and arrested three persons identified as Shubham Surle, Ajinkya Surle and Rohit Rege from Aurangabad. The arrests were based on Andhure's interrogation. The countrymade pistol, federal investigators say, might be one of two 7.65mm bore pistols used to commit the murder of not just Dabholkar, but of rationalist Govind Pansare in February 2015, writer MM Kalburgi in August 2015 and journalist Gauri Lankesh in Karnataka in 2017. Dabholkar, Pansare and Kalburgi were all strong critics of religious superstition and practices such as black magic. Lankesh often wrote against extremist politics. Andhure's name had cropped up during the interrogation of Kalaskar, who was arrested along with Vaibav Raut and Sudhanva Ghondhalekar on August 10. "The recovery of a pistol at the instance of one of the alleged shooters makes our case more strong against them," added Dayal.
Close Story