Advisers must come out of old economic-'isms', overhaul policies: RSS chief
Updated on Sep 30, 2017 12:44 PM IST
Policy makers must come out of their "same old economicicm" and take note of grassroots experiences to ensure government's decisions benefit all, says Mohan Bhagwat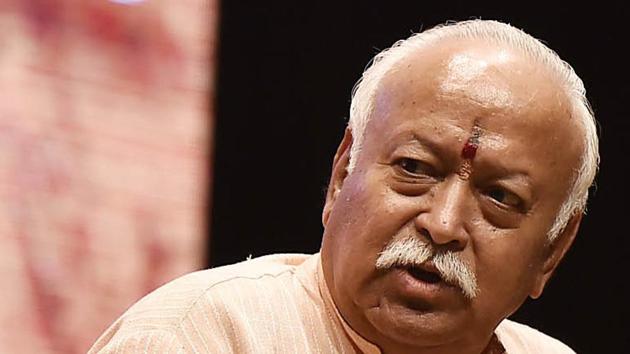 Rashtriya Swayamsevak Sangh's chief Mohan Bhagwat defended on Saturday the "bold and courageous" economic decisions taken by Prime Minister Narendra Modi's government but called for an "integrated and holistic policy" that benefits everyone.
Addressing a customary gathering to mark the Hindu festival Dussehra (Vijay Dashami) at Reshmibagh, chief of the RSS urged economic advisors "to come out of the same old economicism" and take into account experiences that he called the "ground reality of our nation".
His comments come at a time the Modi government faces strident criticism for its handling of the economy after India's GDP growth fell for a third consecutive quarter in June and public anger grew over rising fuel prices. The latest round of criticism came from within the BJP, with former finance minister Yashwant Sinha tearing into the current leadership.
Bhagwat said it is understandable that officials will move on with "global policies and standards, even if they are faulty, artificial, create a mirage of prosperity, cause erosion of morality, environment, employment and self-reliance". "However it is also universally being recognised that all these policies and standards need a rethinking and nation specific unique models of development should evolve."
Modi's BJP is the political arm of the RSS and the chief's comments could potentially have an impact on government policy.
The RSS chief did not name specific decisions of the government such as the rollout of the Goods and Services Tax and last November's note ban — both identified as factors by independent experts for the growth slowdown. But Bhagwat's thrust on the government working for all was clear.
The government must ensure that "tremors and instability" that are a natural outcome of economic reforms should have minimum impact on the informal sector, he said.
"Crores of people get jobs or employments through these sectors. Most of the people standing in the last line of the society are also from these sectors. While reforming and cleaning the economic systems, although some tremors and instability is expected, it should be kept in mind that these sectors should feel the minimum heat and ultimately they should get the maximum strength."
He also spoke on cow protection, an issue that he said must be looked at not merely as a matter of religion, and expressed his opposition to sheltering Rohingya refugees from Myanmar.
"Rohingyas were driven out from Myanmar mainly because of their violent and criminal separatist activities. Any decision regarding them should be taken by keeping in mind that they will definitely be a threat to national security and integrity," he said.
Bhagwat also praised the Narendra Modi government for tackling incidents like the Doklam standoff with China as well as international diplomacy.
On farmers, Bhagwat said loan waivers were not the solution for the crisis in the farm sector and insisted on minimum price guarantees.
Senior BJP leader and former deputy prime minister LK Advani, Union minister for transport, shipping and water resources, Nitin Gadkari and Maharashtra chief minister Devendra Fadnavis also attended the three-hour programme.