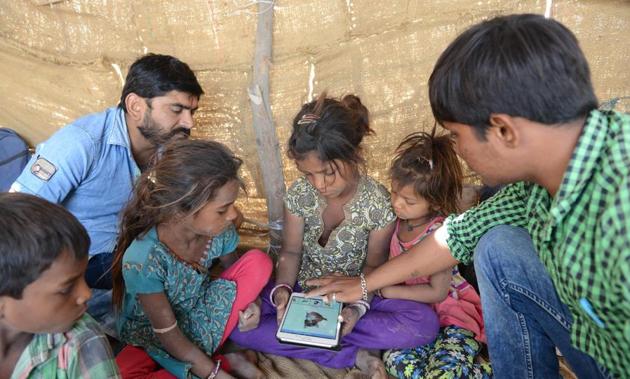 Govt's optical fibre cable project BharatNet entangled in turf war
The BharatNet project has got entangled in Right of Way issues between the DoT and the ministry of road transport and highways. The roads ministry has denied permission to DoT to lay cable within highways RoW until the department pays the license fee.
UPDATED ON APR 02, 2018 07:30 AM IST
A turf war between two central ministries is threatening to impede progress in the government's flagship BharatNet programme, aimed at providing broadband connectivity to all 250,000 gram panchayats (village councils) by 2019 through optical fibre cable to deliver government services.
Key to the government's Digital India plan, the project has got entangled in Right of Way (RoW) issues between the department of telecommunications (DoT) under the ministry of communications and the ministry of road transport and highways. RoW is the legal right to pass through a route or property — in this case to install optical fibre cable — that belongs to someone else.
The roads ministry has denied permission to DoT to lay cable within highways RoW until the department pays the licence fee prescribed under the Control of National Highway (Land and Traffic) Act, 2002. The Act deals with regulation of highway land for all public utilities, including telegraph infrastructure, three senior government officials familiar with the development said on condition of anonymity.
DoT has refused to heed the demand, citing its own 2016 rule under the Telegraph Act that prescribes a one-time administrative fee for using RoW. The Telegraph Right of Way Rules prescribe a fee of Rs 1,000 per km for utility service lines.
With both agencies refusing to budge from their positions, the dispute went to the Prime Minister's Office. Nripendra Misra, principal secretary to Prime Minister Narendra Modi, in a letter to the secretaries of the roads ministry and DoT on December 17 urged them to give "top priority" to the matter and called any delay in grant of permission "unacceptable." HT has reviewed the contents of the letter.
"BharatNet is a transformational initiative for digital India being implemented by DoT. In order to achieve smooth and expeditious RoW, GoI notified Indian Telegraph RoW Rules, 2016. It must be ensured that both time taken for processing as well as the RoW charges are in line with the notified rules..." Mishra's letter read.
BharatNet, launched in 2012, is aimed at promoting e-governance by delivering government services related to health and education , skills training and so on, to the rural poor. Until December 2017, only 100,000 gram panchayats had been connected through optic fibre cable under Phase I of the project . The total project cost is Rs 45,000 crore.
A six-member committee of secretaries including those from the roads and petroleum ministries, DoT, petroleum, and the Dedicated Freight Corridor Corporation of India (DFCC) was set up in January to resolve the matter. The committee has not been able to make much headway.
"There are two different set of rules notified by different ministries, prescribing different fee structure. Both the ministries are citing their respective rules," said one of the officials cited above.
The highways ministry's contention is that the DoT is using the physical domain of highways and hence should be regulated by highway administration rules.
"Till the time a highway is dug to lay utility, it compromises a road asset. Also it results in traffic snarls and increase in road maintenance cost. The highway rules prescribe the fee depending on the cost of the land and as such appears to be logical and appropriate," said a second official.
Misra's intervention, too, failed to break the deadlock, forcing DoT secretary Aruna Sundararajan to write to her counterpart YS Malik in the roads ministry on March 6. HT has reviewed the letter.
Referring to Misra's letter, Sundararajan wrote: "….it was requested to ensure that the time for processing as well as the RoW charges to be in line with the notified Indian Telegraph RoW Rules, 2016 ….It was also mentioned that delay in granting permission is unacceptable as BharatNet is a flagship program of the GoI. In this connection, I would like to mention that the compliance report has not been received from your ministry/organization so far."
Malik told HT: "We are looking at provisions as per our National Highways Act and what is there under the Indian Telegraph Act. We will try to find the best way out and respond to DoT."
DoT's Sundararajan could not be reached for comment despite repeated attempts to contact her .
The third official cited above said the roads ministry is likely to suggest a common fee, supervision and maintenance structure. "Because there is overlapping between ministries, having a common protocol is a practical solution. But till it is not formalized, we can't say anything," the official added.
Close