Govt under fire over jobs, Modi to review progress of stalled infra projects
The Prime Minister holds a monthly video-conference with senior Union and state government officials to review the progress of infrastructure projects.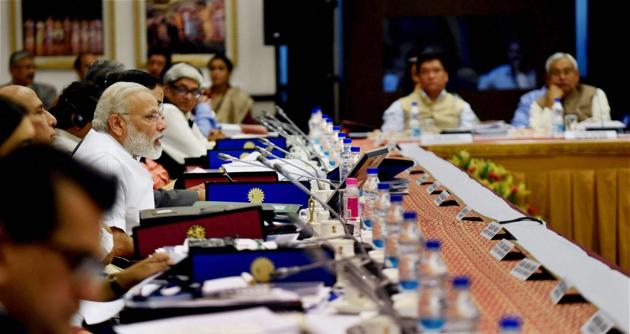 Updated on Jun 06, 2017 04:31 PM IST
Prime Minister Narendra Modi will later this month ask the country's top officials for an update on all the decisions taken over the last two years to push public projects.
The review of decisions taken at Pragati meetings comes as the Modi government, which recently completed three years in office, is under fire from the Opposition over "falling growth and rising unemployment".
"We have got a mail from the prime minister's office that the PM will review the decisions taken at the previous 17 Pragati meetings to see how many of them have been implemented," a secretary with one of the infrastructure ministries said on Tuesday.
The date for the review has not been decided but officials expect the meeting later this month.
Once a month, Modi holds a video-conference with senior Union and state government officials to review the progress of infrastructure projects. While states are represented by chief secretaries, officials of finance, land, rail, environment, transport and port ministries come in from the Centre.
The pro-active governance and timely implementation, or Pragati, was launched in March 2015 to ensure infrastructure projects were not stalled due to India's infamous red-tape culture.
Lack of infrastructure and slow progress in building roads, railways and ports have for long been identified as reasons for India not achieving its economic potential.
These projects while boosting infrastructure also spin jobs, which the government needs to beat back the Opposition charge of jobless growth.
Pragati – or progress in Hindi – is one of many steps taken by the Prime Minister to personally monitor the progress of development projects, especially in the infrastructure sector.
Modi also meets Union government secretaries at least once a year for their feedback on government programmes and challenges facing them.
So far, six such meetings have been held. The last was on June 5 where the officers were told to set targets for 2022, with the focus on the development of 100 most-backward districts of the country.
"Such interactions help bridge the communication gap between the political class and bureaucracy," another secretary told HT on condition of anonymity. The meetings allowed free exchange of ideas on challenges and ways to address them, the officer said.
Close Story
Personalise your news feed. Follow trending topics