Gujarat MLA Jignesh Mevani stopped at Jaipur airport en route to Nagaur
The Gujarat lawmaker said police were forcing him to fly back to Ahmedabad and not allowing to hold a press conference in Jaipur.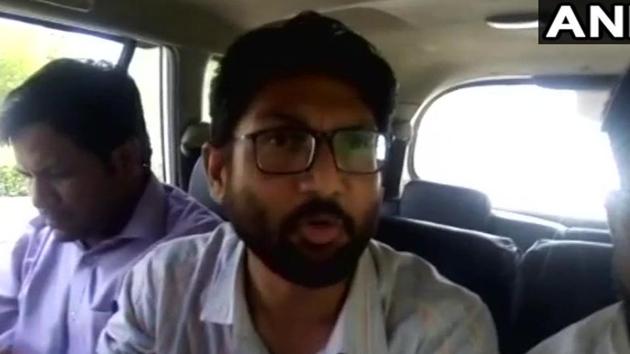 Updated on Apr 15, 2018 08:57 PM IST
Hindustan Times, Jaipur | By Nitika Kakkar
Gujarat MLA Jignesh Mevani was stopped by the police at the Jaipur airport on Sunday morning. Mevani was scheduled to address a gathering on Dr Bhim Rao Ambedkar and Indian Constitution in Rajasthan's Nagaur district but was stopped as Section 144 has been imposed in the district.
The Dalit leader took to Twitter to say he only wanted to talk about the Indian Constitution.
"Immediately after I landed at Jaipur airport, few cops made me sign a letter saying MLA Jignesh Mevani's entry is restricted in entire Nagaur district of Rajasthan. I was going there to talk about Indian constitution and Baba Saheb Ambedkar," he tweeted.
In another tweet, he said, "Now the police is saying you are not allowed to move around even in Jaipur and they are forcing me to fly back to Ahmedabad and also not allowing to hold even a press conference...this is shocking."
DCP East Kunwar Rashtradeep said it was not the case. "There was no detention. The Nagaur police have released an order restricting him from entering Nagaur as Section 144 has been imposed in the district. He was stopped so that he could be made aware of the order. He was also informed that due to the imposition of Section 144 in Jaipur, no rally, dharna or demonstration can be held," Rashtradeep said.
Rashtradeep said Mevani demanded to see a copy of the order. "It took some time for us to get the order as offices were closed on Sunday. After he received the order, he left. Had he been detained, we would not have allowed him to speak to media or let him go," Rashtradeep added.
The order, signed by the additional commissioner of Jaipur, Nitin Deep Blaggan, stated that in the past, the law and order situation had been adversely affected in places where Mevani either held public functions or gave speeches.
Citing the violence that erupted on April 2 during the Bharat Bandh called by members of SC and ST community, the order said, "If you, Jignesh Mevani take part in scheduled programme on April 15, and give any speech or statement, then the peaceful situation in Jaipur will be affected and the law and order situation will be affected."
The order also states that Mevani should not take part in any public meeting, rally or demonstration or give any speech or statement in Jaipur district Commissionerate from April 15 to April 30 in order to maintain the law and order situation.
Mevani, who is in Jaipur, said that his entry into the state has rattled the Raje government. "I want to tell the Vasundhara Raje government that they will not be able to silence me. I'll keep coming to Rajasthan and now I will take this as a challenge. I will try my level best to ensure that she gets defeated," Mevani said.
Mevani also alleged that the police detained one of his colleagues, Jigraj, while he was doing a Facebook live. He said he was being 'stalked' by the Rajasthan Police even after he left the police station and has been placed under 'illegal surveillance' as a police car is following him.
DCP Rashtradeep denied that anyone name Jigraj had been detained. He said they have detained a person named Gopal Singh Keshavat, who had come to meet Mevani. Rashtradeep said there was a standing warrant against Keshavat.
On Mevani's allegations of being followed by police, Rashtradeep said, "Mevani is an MLA from a different state. We have received input that there are many groups who do not like Jignesh Mevani's ideologies and what he says. But as long as he is in Jaipur, it is our responsibility to know his whereabouts, so that we can prevent any attacks or any unforeseen activities by these anti-groups. It is purely for his security."
(With inputs from PTI)
Close Story