H-1B visa: Shock, cautious optimism in India after Donald Trump's move
Bengaluru/Pune/Hyderabad, Hindustan Times |
Vikram Gopal, Yogesh Joshi and Srinivasa Rao Apparasu
Apr 20, 2017 11:37 AM IST
Thousands of Indian professionals are employed by American companies annually through H-1B visas meant for scientists, engineers and computer programmers sought by Silicon Valley.
Neha Gayal, an engineer seeking to immigrate to the United States, is trying to look at the positive side of President Donald Trump's executive order restricting the use of H-1B visas.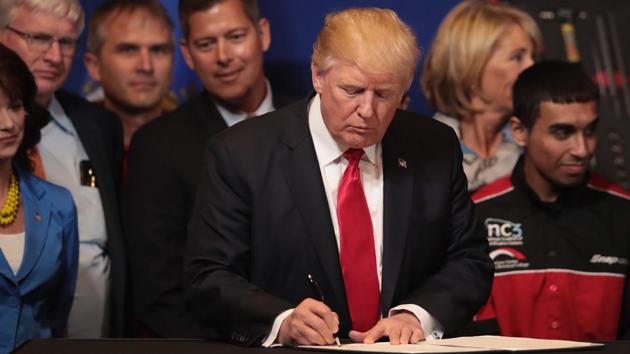 A day after Trump's move, Gayal said the order will mostly impact students from poorly ranked engineering colleges.
"Many companies used to employ people passing out of mediocre engineering colleges on low wages and take them to US," said the 22-year-old graduate from a government college in Pune.
"This will probably stop now, improving the chances of others who studied in renowned institutions and have advanced degrees."
Others were not so optimistic.
I-T professional Mangesh Joshi feels the "buy American, hire American" order will adversely affect Indian job-seekers.
"The order seeks highest skilled-and paid labour to America," said Joshi, adding that the US will block visa applications that show low wages.
Thousands of Indian professionals are employed by American companies annually through these time-limited work permits meant for scientists, engineers and computer programmers sought by Silicon Valley.
The Trump administration says the order – which will need legislative approval – is aimed at stopping the "abuse" of the H-1B visa programme and giving jobs back to Americans, one of his major campaign promises.
The United States offers 85,000 H-1B visas every year, most of which are snapped up by Indian outsourcers whose employees fill a skill gap in US engineering. Applications are vastly oversubscribed and visas are allocated via a lottery system.
It is this lottery system which the Trump administration says is misused by Indian companies, a charge denied by industry body NASSCOM.
So far reactions in India are mixed.
Akash Rathi, a fresh graduate from Pune, too said the new changes might help Indians.
"While Indians have been the biggest beneficiaries of H-1B visas, the expected change of substantial increase in minimum salary level might force IT companies to take away US jobs elsewhere to countries like India."
But IT professional Darshan Srinivasan, who has visited the US and other countries for onsite projects, said the order has come as a blow to workers in the sector.
"Morale of employees has taken a visible hit," he said in Bengaluru.
Srinivasan said service-based companies were to blame for violations related to H-1B visas. "Product-based companies have to suffer as a result," he said.
According to Kishore Kumar Kovuru, a software engineer who returned to India after working in the US for a decade, Indians who were getting extension of H-1B visa every two years might find it difficult now.
"With the US government firm on restricting foreigners in regular jobs, there will be serious review of the H1-B visa holders when they apply for extensions," he told HT in Hyderabad.
"So is the case with fresh applicants. Unless the US government is satisfied that the applicants are highly-qualified and the US companies cannot find alternatives to them, it will be difficult to get visas."
Ramesh Loganathan, former president of Hyderabad Software Exporters' Association, however, said there "is absolutely no need to panic about the latest order" as it will benefit highly skilled Indians in the long run.
"Hitherto, many Indians obtained H-1B visas through various methods to join bogus companies. The present order will affect such people," he said.
"But for highly skilled and highly paid Indians like architects and software developers, it is, in fact, a good development unless the US government reduces the number of H-1 B visas, which is very unlikely."
According to Loganathan, Telangana and Andhra Pradesh account for 40-45% of the total number of 60,000 H-1B temporary visas from India every year.
NASSCOM on Wednesday cautioned the US government that "hindering access to needed talent" could only harm American companies.
"Any onerous additional restrictions on the H-1B...would hurt thousands of US businesses and their efforts to be more competitive by hindering access to needed talent," NASSCOM said in a statement.
NASSCOM president R Chandrashekhar said the body was against selective targeting of Indian companies, which account for only "20 per cent" of the visas.
"Any such move will not benefit the American worker, which is the intention behind the move," he said, adding that "using salary levels as the metric is not necessarily the best indicator of benefits to the US economy".
Betsy Lawrence, the director of government relations for the American Immigration Lawyers Association, told CNN that, "Although released with ceremonial flair, the order will have no immediate impact on H-1Bs."
"Many of the changes to the H-1B programme contemplated by the administration would require legislative action or rule-making and would take time to go through the necessary processes."
(With inputs from Sanjeev Ahuja in New Delhi and agencies)