Harish Salve, the piano-playing lawyer who is fighting Kulbhushan Jadhav's case at ICJ
One of India's most expensive lawyers, Harish Salve has charged Re 1 for representing India at ICJ.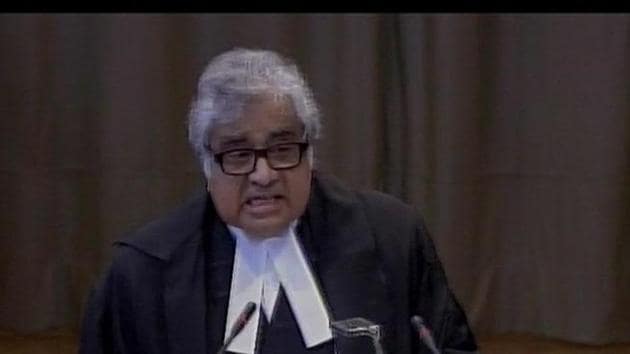 Updated on May 17, 2017 10:06 AM IST
Hindustan Times, New Delhi | By Ashok Bagriya
Within hours of him arguing India's case at the International Court of Justice against death penalty awarded to Kulbhusan Jadhav by Pakistan, external affairs minister Sushma Swaraj tweeted to say Harish Salve charged the government a token one rupee fee.
The minister had to step in after a tweet said India could have picked up a less expensive lawyer to defend the former Indian navy officer at the world court.
The 61-year-old Salve is one of India's most expensive lawyers who charges anything between Rs 10 lakh to Rs 20 lakh for a court appearance.
The chartered accountant-turned-lawyer, who according to media reports is partial to Apple products, specialises in tax law but is equally comfortable in criminal and constitutional matters.
Perhaps that explains his list of clients that includes business tycoons Mukesh Ambani, Ratan Tata and Sunil Mittal. Veteran politicians Mulayam Singh Yadav and Parkash Singh Badal, too, have used Salve's services, so have actor Salman Khan and IPL founder Lalit Modi.
While he has successfully handled several high-profile corporate cases, Salve played a big part in the Supreme Court striking down the draconian section 66A of the information technology act that made posting "offensive" comments online a crime punishable by jail.
The senior advocate helped law student Shreya Singhal defend freedom of speech and expression in the virtual world as well.
Environment is a cause close to the heart of the Delhi-based lawyer who enjoys playing piano.
Salve, who was advising the Supreme Court as an amicus curie, had suggested all buses in Delhi switch to cleaner CNG fuel to fight air pollution. The suggestion was highly unpopular but was accepted.
It is on his recommendation that diesel-guzzling luxury cars and SUVs with engine capacity of 2000 cc can't be sold or registered in Delhi. Diesel cars are big contributors to air pollution.
He was also the amicus curie in 2002 Gujarat riot cases, including that of Bilkis Bano. The Bombay high court early this month upheld life imprisonment awarded to 11 men for raping Bano.
Salve, who was named the solicitor general of India when he was 43, comes from a family of lawyers and politicians. His father NPK Salve was a senior member of the Congress and his mother Ambriti a doctor. Salve's grandfather was a successful criminal lawyer.
Close Story