Kulbhushan Jadhav death penalty: ICJ defers ruling after India, Pakistan present case
The fate of the accused spy remains uncertain as the court is yet to give a verdict on whether it will grant an emergency stay on Pakistan's decision to execute him for espionage.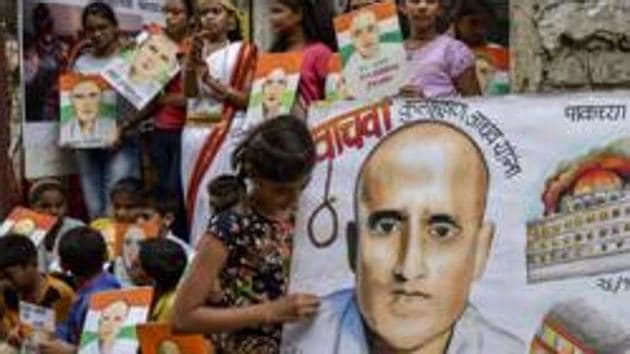 Updated on May 16, 2017 12:17 AM IST
Hindustan Times, New Delhi | By Ashok Bagriya and Rezaul H Laskar
The fate of Kulbhushan Jadhav, a former Indian Navy officer sentenced to death by a Pakistani military court for alleged espionage, remained uncertain as the International Court of Justice on Monday deferred its ruling on India's petition to stop his execution.
The United Nations' highest court in The Hague heard arguments by both sides and its president Ronny Abraham said the 12-judge tribunal would deliver its decision on whether to grant an emergency stay of execution "as soon as possible" on a date that would be communicated to the two parties.
Pakistan says Jadhav, 46, was arrested in March last year in the restive Balochistan province. In April, a military court sentenced him to death for alleged involvement in spying and subversive activities. India contended he was kidnapped from the Iranian port of Chabahar and his trial was a "farce".
India argued during the hearing in the Dutch capital that Pakistan had violated the Vienna Convention on Consular Relations by not granting consular access to Jadhav even after 16 requests were made.
Pakistan said in its presentation that consular access could not be granted as Jadhav was a "terrorist" and that India had "invoked the jurisdiction of this court improperly". UK-based lawyer Khawar Qureshi, who appeared for Pakistan, said a 2008 bilateral agreement allows both countries to decide on consular access in matters involving "political or security" issues.
Qureshi also argued that there was "no urgency" in the matter while countering India's contention that it feared Jadhav could be executed even before the hearing at the ICJ is completed.
The Pakistani side suffered a setback when the ICJ turned down its request to play the purported "confessional" video of Jadhav at the hearing. A video wall was set up by the Pakistani side but the court upheld the Indian team's objection to any playback.
Former solicitor general Harish Salve, India's lead attorney, told a TV news channel: "If you want to show something and it helps your case if you are denied that right, it's a setback. So, in that sense, yeah. They wanted to show it and that opportunity was taken away.
"They did not allow it. We objected and the court felt it was not appropriate," he added.
After India approached the ICJ earlier this month, the World Court's president wrote to Pakistan urging it to take no action that could affect the hearing - effectively a move to prevent the death sentence being carried out.
Leading the charge for India, Deepak Mittal, joint secretary on the Pakistan desk of the external affairs ministry, said that Pakistan had deliberately denied consular access despite being under an international obligation to do so. This was a violation of the Vienna Convention on Consular Relations.
"India believes that the farcical nature of proceedings and unjust trial by a Pakistani military court in egregious violation of the rights of consular access... has led to (a) serious miscarriage of justice," Mittal said.
Salve made out a case that the World Court has jurisdiction to adjudicate in the case. Salve focused on precedents of the World Court and cited cases of Germany versus the US and Mexico versus the US wherein the ICJ had intervened and passed provisional orders restraining governments from executing convicts.
"The execution of the death sentence cannot be done while this court is hearing the appeal. Else, it will be a violation of the Vienna Convention," Salve said.
"I urge the ICJ to ensure that Jadhav is not executed, Pakistan reports to this court that the action (of not executing him) is taken and that no action is taken that might prejudice the rights of India in the matter of Jadhav," he added.
Pakistani representative Mohammad Faisal accused India of using the ICJ as "a stage for political theater". He showed the tribunal a copy of an Indian passport he alleged Jadhav was carrying at the time of his arrest, which bore the name Hussein Mubarak Patel.
This, Faisal claimed, was an "obvious indication of covert and illegal activity." He added Jadhav "has confessed to having been sent by India to wage terror on the innocent civilians and infrastructure of Pakistan".
"India invoked the jurisdiction of this court improperly," said Pakistan's lawyer Khawar Qureshi. "This court exists to ensure that states engage in peaceful resolution of disputes. This court does not exist for time-wasting and political grandstanding."
The ICJ resolves disputes between nations and its decisions are final and binding. But it has no means to enforce its rulings and they have sometimes been ignored.
In a similar dispute involving the Vienna Convention in 1999, the ICJ ordered the US not to execute a German national who did not get consular access but the man was executed.
Close Story