Have not received data on rivers from China, says external affairs ministry
Aug 18, 2017 11:51 PM IST
The development comes at the backdrop of the ongoing standoff between Chinese and Indian troops in Doklam in the Sikkim sector.
India has not received hydrological data from China this year despite a bilateral agreement, the external affairs ministry (MEA) said on Friday, but maintained that it was "premature" to link it with the recent floods in some parts of the country.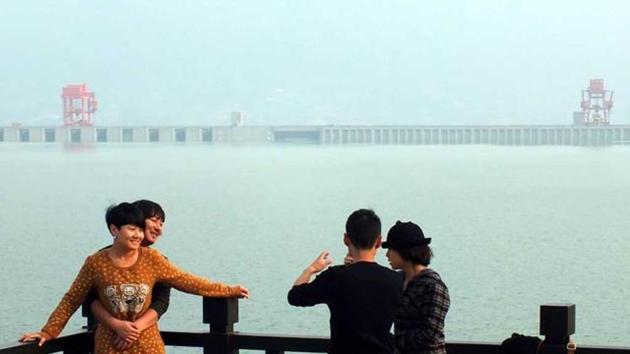 The development comes at the backdrop of the ongoing standoff between Chinese and Indian troops in Doklam in the Sikkim sector.
MEA spokesperson Raveesh Kumar also did not confirm whether Prime Minister Narendra Modi will travel to China next month to attend Brazil-Russia-India-China-South Africa (BRICS) summit, saying he does not have any information about it. Asked about the current status of the standoff, he said "It is a sensitive issue... We will continue to engage with China to find a mutually acceptable solution. Peace and tranquillity in border areas are important pre-requisites for smooth development of bilateral relations."
However, when asked by when the standoff will be resolved, he said, "I am not an astrologer, so cannot predict."
Asked if China has shared hydrological data with India in the backdrop of floods in Assam, Kumar said there is an existing expert-level mechanism, established in 2006, and there are two MoUs under which China is expected to share hydrological data on rivers Satluj and Brahmaputra with India between May and October every year.
"For this year, we have not received hydrological data from the Chinese side," the spokesperson said. He added that it was "premature" to link it with the floods in Assam as there can be "technical reasons" behind China not sharing the data.
He also noted that in view of the floods in Bihar, India was closely coordinating with Nepal, both at Centre and state level.
Asked if India welcomes the comments of the Japanese Ambassador on the Doklam standoff in an interview to Hindustan Times, Kumar gave a very guarded reaction, saying the remarks speak for themselves. The envoy said that no country should use unilateral forces to alter the status of Dokalam.
Kumar also refused to divulge details of communication by other countries to India on the Dokalam issue.
Asked about a clash between Chinese troops and Indian border guards in Ladakh on August 15, the MEA spokesperson said, "Such incidents are not in the interest of either side" but refused to give details about the incident.
He, however, emphasised that the incident should not be linked with what was happening in any sector, apparently referring to Dokalam face off.
Doklam is a disputed territory between China and Bhutan and his country understands why India has got involved in the dispute.
"We recognize Doklam is a disputed area between Bhutan and China and two countries are engaged in border talks… We also understand that the India has a treaty understanding with Bhutan that's why Indian troops got involved in the area," Japanese ambassador to India Kenji Hiramatsu said. Japan is the first major power to talk openly about Doklam standoff.
The Government of Bhutan last week refuted Chinese foreign ministry claims about Thimpu telling Beijing that the stand-off area in Doklam in the Sikkim sector is not Bhutan's territory
A top Chinese diplomat Wang Wenli, deputy director general of the Department of Boundary and Ocean Affairs in China's foreign ministry had claimed that Bhutan had conveyed to Beijing "through diplomatic channels that the area of the standoff is not its territory."
The envoy said that no country should use force to change the status of Doklam. India said the Chinese road construction in Doklam which was objected to by Bhutan, saying it's a move to alter the status of tri-junction which is of huge national security implications for India. India cited a 2012 understanding with China which says any change in the status of tri-junction, the third party (in this case, Bhutan) needs to be consulted. The envoy said Japan welcomes external affairs minister Sushma Swaraj's statement that India is trying to find out a solution to the faceoff through diplomatic means.
When asked whether he sees the Doklam standoff as part of the larger issue of China getting aggressive about issues of sovereignty, he said "it is not easy to make such assumptions and some instances could be seen as they are." Japan is also engaged with sovereignty tussle with China over East China sea.
Replying to another question on One Road One Belt, a vanity project of Chinese president Xi Jingping the envoy said Japan and India have discussed the project many a time. Unlike India, Japan had attended the OBOR conference, which the envoy said was a decision based on the bilateral ties between the two countries. He also pointed about infrastructure development is something Japan is also focusing on.
He said the terms of loans, environmental issues, and respecting the regulations of each countries are some issues that Japan, like India, is concerned about the implementation of OBOR.