'High time' PM should come forward and face people, says Shatrughan Sinha
Updated on Sep 29, 2017 05:37 PM IST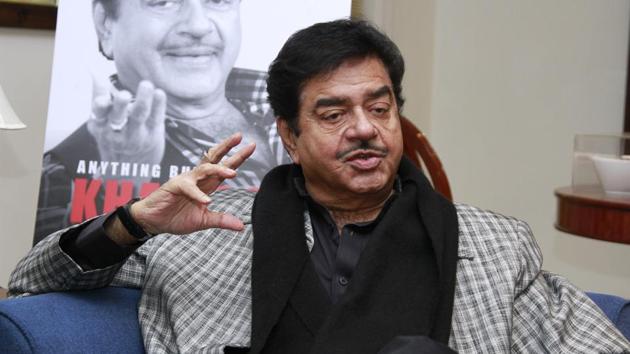 Indo Asian News Service |
Indo Asian News Service
A day after backing former finance minister Yashwant Sinha's views on the economy, actor-turned-politician Shatrughan Sinha on Friday advised Prime Minister Narendra Modi to "come forward and face the people".
"It's high time and right time that the Prime Minister and head of this democracy comes forward and faces the public and the press for answering questions, in a real press conference," Shatrughan Sinha said in a series of tweets.
He also wished that "PM will at least once in a while also show that he takes care of the middle class, the traders, the small businesses...all across the country and specially in Gujarat in the wake of the coming assembly elections".
Shatrughan Sinha's remarks came after Jaitley on Thursday described Yashwant Sinha as a "job applicant at the age of 80".
Speaking at a book launch here, Jaitley had accused the former finance minister of "acting in tandem" with Congress leader P Chidambaram.
Targeting the finance minister, the Patna Saheb MP said: "The observations of Yashwant Sinha on the state of the economy are strongly endorsed by me as well as many other thinking leaders and people from our party and outside...have been rapidly gaining strength and support over the last two days."
"We are seeing an even greater support from a larger cross-section of leaders and workers in the coming days to address this matter of grave national importance," he added.
He also felt the matter should not be allowed to be diluted by turning it into a matter between the government and Sinha.
"However, this matter shouldn't be allowed to be diluted between Yashwant Sinha and Arun Jaitley, as is being attempted... Otherwise, in Jagjit Singh's words, 'Baat niklegi to fir door talak jaayegi'," he said.
The former finance minister kicked up a storm in his Bharatiya Janata Party on Wednesday through a strongly-worded critique on the state of Indian economy under the current government, saying it was headed for a "hard landing".
Shatrughan Sinha, who was sidelined during the Bihar assembly elections, has backed the comments of Yashwant Sinha as "revelatory", and said it showed the mirror on the current Indian economic scenario.