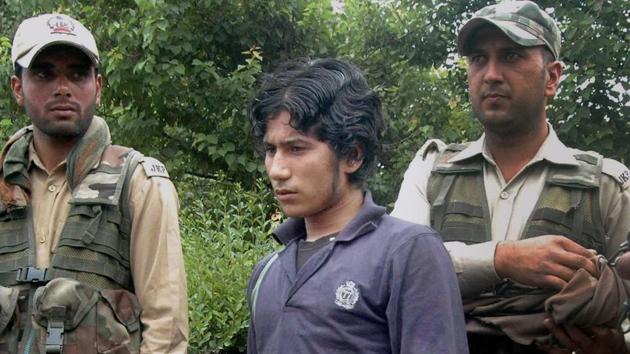 Hizbul claims it freed Lashkar terrorist Naveed Jhatt in Srinagar hospital raid
Hizb commander Riyaz Naikoo says outfit's men were forced to kill Kashmiris to free their Pakistani brother.
UPDATED ON FEB 07, 2018 11:51 PM IST
Kashmir's home-grown militant outfit Hizbul Mujahideen has claimed responsibility for Tuesday's attack on a Srinagar hospital during which gunmen shot dead two policemen and freed a Pakistani Lashkar-e-Taiba terrorist brought for treatment in custody.
In a nearly eight-minute audio released on Wednesday, Kashmir's Hizb commander Riyaz Naikoo claimed it was his men who raided the Shri Maharaja Hari Singh Hospital to free Lashkar terrorist Naveed Jhatt. Naikoo said Jhatt had "reached south Kashmir" safely.
On the killing of the two policemen guarding Jhatt, Naikoo said, "They were forced to kill Kashmiris to free their Pakistani brother."
Naikoo, who took over as Hizb commander after Yasin Itoo's death, added, "When we saw the children of the two policemen, we were heartbroken because we don't want to kill any Kashmiri, but people who are aligning with India are forcing us to kill them."
The Hizb message pointing to collaboration between militant groups did not surprise the security establishment. Jammu and Kashmir director general of police SP Vaid said such coordination was seen in many other attacks. "All the militants groups are now working together. It's not just this incident. Lately, we have been seeing many joint attacks by various groups," he added.
A senior police officer who did not want to be named said, "Lashkar-e-Taiba cannot survive in south Kashmir (the hotbed of militancy in the Valley) without Hizbul Mujahideen support. The various outfits are working together and are different just in name."
The Hizb is primarily an indigenous group, while the Lashkar comprises Pakistani nationals who infiltrate into India. The Hizb mostly trains cadre in forests across Kashmir, while Lashkar terrorists get commando training across the border.
Jhatt, 20, had received similar training at the Lashkar's headquarters in Muridke before sneaking into India in 2012 as a teenager.
Security forces killed most top Laskhar terrorists active in Kashmir last year, dealing a blow to the outfit and forcing it to collaborate more actively with Hizb and other militant outfits.
Lashkar spokesperson Abdullah Ghazanwi acknowledged militant outfits were coordinating at all levels and commended Kashmiri militants for the hospital raid to free Jhatt and described it as a "historic" feat. "The incident was an outcome of close coordination and cooperation among various Mujahideen organisations," Ghazanwi said in a WhatsApp text to the local media.
Such collaboration is a departure from the earlier strategy of Pakistan-based outfits to claim credit for attacks, according to a police officer tracking militancy in the Valley. "Now, there is a concerted effort to give attacks on security forces a more local name. Pakistan-based outfits are also trying recruit more locals," the officer added.
For instance, in a fidayeen attack on a CRPF camp in Pulwama on December 31 last year, Pakistan-based Jaish-e-Mohammed used two local militants, one of them a 16-year-old from Tral in south Kashmir. The teenager, son of a police officer, and the other militant died in the attack.
A day after the attack, Jaish released a video message of the teenage suicide attacker explaining the "need for jihad".
Close