'Hold a 1-day fast in solidarity with Ladakh,' appeals Sonam Wangchuk. Watch
Jan 29, 2023 09:46 PM IST
Sonam Wangchuk began his five-day climate fast on Republic Day.
As he kickstarted the day-4 of his climate protest, celebrated innovator Sonam Wangchuk on Sunday appealed to people to join the stir for Ladakh and hold a one-day fast. Wangchuk, 56, had kickstarted his fast for Ladakh on the Republic Day. A day later, he had - via a video message - said he was under house arrest. In his latest clip posted from the site of the stir, the education reformist can be heard saying: "Good morning world... today is my fourth day of the fast to safeguard Ladakh and the mountains, and the 6th Schedule of the Constitution".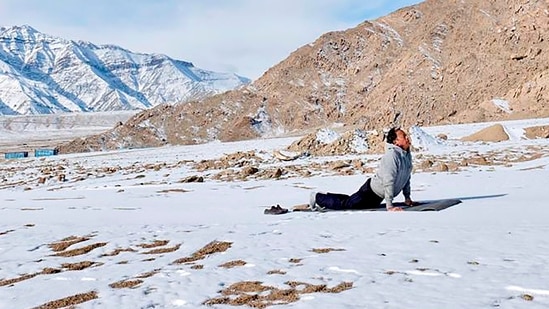 "I am overwhelmed by the support I am getting from all across. Tomorrow is the last day of my climate fast and you all can join too -- from your homes or community spaces to show to the world that we care for the environment and not just support blind development. Stay connected, stay tuned," he is heard saying in the clip.
On Saturday too, Wangchuk had made a similar appeal. "You too can join. A lot of people have asked me how. 30th Jan is the last day of my 5 day fast. Join me for 1 day fast from your own places and share on social media for solidarity. Those with leadership qualities could organise at safe public places from 9 am to 6pm," he had tweeted along with a video.
The activist-innovator has been also putting out other related updates. He reached out for legal help on Saturday after he said a bond was sent by the administration to him over his protest. He was asked to make no public statements in the document he shared and ensure that law and order was not disrupted during the five-day protest. Wangchuk had originally announced Khardungla as the destination of his stir at - 40 degrees Celsius. But he was asked to change the venue.
Later, he said that he was told to hold the fast at his institute where a large security presence was arranged.