Cows are taking centre stage in the coming Gujarat election
Nov 05, 2017 02:50 PM IST
Gujarat has India's toughest cow protection law that awards up to life in jail for slaughtering a cow.
The small village of Bela in Gujarat's Junagadh district has seen a new craze in the past two years: Rearing cows. The village of 100-odd household has bought 30 cows to add to their 500 buffaloes as a result of the state government's push for bovine rearing and welfare.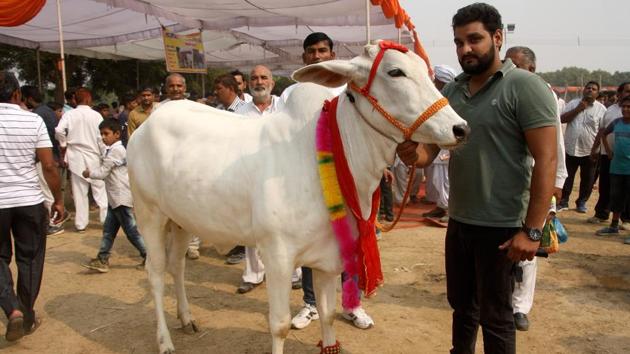 "Due to an increasing demand of cow milk and awareness campaigns by the government, last year I added a cow to my shed which already had five buffalo," says Chhel Sankaliya, a resident of the village that has mostly farmers and cattle herders. "I am the first generation in my family to own a cow," he adds.
Gujarat has India's toughest cow protection law that awards up to life in jail for slaughtering a cow, considered a highlight of Rupani's tenure. But the western state has a long history of legislation for bovine welfare.
In 2011, Gujarat for the first time banned consumption, transportation and slaughter of cow and progeny by amending the Gujarat Animal Prevention Act (Amendment). The year before, the BJP government with Narendra Modi as chief minister had revived Gauseva and Gauchar Vikas Board (GGVB). The board's budget was increased from Rs 1.5 crore to Rs 150 crore.
"A safety net has been created wherein cow shelters get grants in addition to donations. Awareness and training programmes are being conducted for cattle shelters to be independent by making soaps, shampoos, fertilizers and others products from cow urine and dung," GGVB chairman Vallabh Kathiria told HT.
And by the time Gujarat made the law stricter this April and the Centre introduced a ban on sale of cattle for slaughter at animal markets, the GGVB stepped in to make sure that the bovines prevented from sale or slaughter did not end up on the streets or died at shelters.
Cow protection has been the central theme of Rupani's public speeches after the BJP's landslide victory in Uttar Pradesh elections. Party insiders believe that enacting a stricter cow protection law will help consolidate votes in the elections to be held in the backdrop of Patidar quota agitations.
"This is not out of concern for cows. The BJP has passed this bill to get votes. Through this bill, it has been proved that BJP is anti-Dalit," Congress MLA Shaktisinh Gohi had said then, referring to the flogging of Dalits by self-proclaimed cow vigilantes in Una last year.
Each of the cow-shelter houses get an annual grant of between of Rs 8 lakh and 10 lakh to set up facilities like sheds, wells, drip irrigation and to grow fodder, among other requirements.
"We do not see the two new laws working against the welfare of bovine or (dairy) industry in any way. Trade of cattle has been banned only for slaughter. For other purposes, farmers are not facing any problem," said Praful Senjaliya, secretary, Bhartiya Kisan Sangh, which is up in arms against the state government over crop support prices.
The state's 33 districts have over 600 cow shelters. To provide protection to old, non-milch and weak cattle, the government is setting up a cow sanctuary in Porbandar district covering 900 hectares – 100 hectares of cattle shelter and 800 for cultivating fodder. The sanctuary, whose boundary construction is underway, is built to house 10,000 bovines.
"The sanctuary has been planned for two reasons. First, it will provide natural environment to cattle. Secondly, with stricter cow protection rules in place, the existing shelters might not be enough to house them all in coming years," Kathiria said.