HT Archive: The country takes the first step in its nuclear campaign
Jan 27, 2023 11:44 PM IST
"India would never use atomic energy for evil purposes," Prime Minister Jawaharlal Nehru said as he inaugurated the country's first atomic reactor in Trombay on January 20, 1957
"India would never use atomic energy for evil purposes," Prime Minister Jawaharlal Nehru said as he inaugurated the country's first atomic reactor in Trombay on January 20, 1957.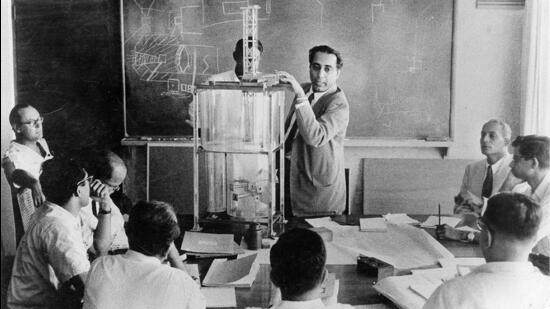 "There are no conditions attached to this assurance," he said on behalf of all future governments of India. "Once we attach conditions nobody knows what conditions or circumstances might be and such assurances have no value or meaning."
The swimming pool type reactor, named Apsara by Nehru, was conceptualised in the early 1950s by Dr Homi J Bhabha, who is widely considered the father of Indian nuclear programme. "Research reactors are the backbone of the nuclear programme," Bhabha famously said.
Apsara, the first research reactor in Asia, was built with assistance from the United Kingdom, which provided the initial fuel. It attained criticality – a state in which the nuclear chain reaction is self-sustaining -- at 3.45pm on August 4, 1956.
Over a hundred scientists from across the world attended the inauguration at the Trombay campus of the Bhabha Atomic Research Centre.
Among them were Gen KD Nochols, Dr BFJ Schnoland, Deputy Director of Atomic Energy Research Establishment at Harwell in the UK, Mr Nesmeyananov, Mr V S Emelianov, Mr AI Alikhaniants, Mr LG Lenov, Mr NN Privalov and Mr DV Skobelt (all from the Soviet Union) and Dr Hideki Yukawa, member of the Atomic Energy Commission of Japan.
During the inauguration, Nehru said the atomic energy establishment would not only help Indian people but would also serve as a centre where scientific knowledge and experience could be shared and training facilities offered to other countries, more especially countries of Asia and Africa.
He said the development of atomic energy had to be organised in such a way as to bring good and not evil to the world.
"In fact, I imagine everybody now realizes that things as they are today, make a total war in which atomic weapons are used out of question," he said.
The PM said such a war would bring disaster to everybody, adding that disarmament was a difficult task.
"But I believe in spite of apparent and real difficulties, people's minds, and more than that the minds of those who control the destinies of nations are beginning more and more to take a realistic view of the situation. Let us hope that they will arrive at some decision which will put an end to the terrible fear that these weapons may be used," he said.
The Prime Minister said India was at the beginning of its journey so far as the development of atomic technology was concerned, even as he hailed the progress of the last few years.
He paid tributes to Dr Bhabha and Dr KS Krishnan, director of the National Physical Laboratory, for their efforts.
Nehru particularly referred to young scientists who have been working in the establishment and said: "It is really when I see them and talk to them and see their informed enthusiasm and their trained mind that I realize that it is very good material we have got. The future becomes much more assured not because of the concrete and stones of the buildings being put up but because of the human material employed in the work."
He also expressed gratitude to the countries that helped India in its atomic energy development programme. He referred to the help given by Canada, which is helping to set up a second reactor at the establishment, the UK, the US, and France.
With the Soviet Union, he said, there had been co-operation in this matter "which no doubt, will develop in future".
(Edited excerpts from a report published in HT's edition of January 21, 1957)