'I am going back to Sikhism': Many disillusioned 'premis' renounce Dera
Sep 02, 2017 07:16 AM IST
While a few stay loyal, some feel confused in the face of disgrace. Some of the Dera followers say they are waiting for the dust to settle.
"I am going back to Sikhism," said Manjit Singh, a 29-year-old follower of the Dera Sacha Sauda in southern Punjab who is disturbed by Gurmeet Ram Rahim Singh's conviction for raping two disciples 15 years ago.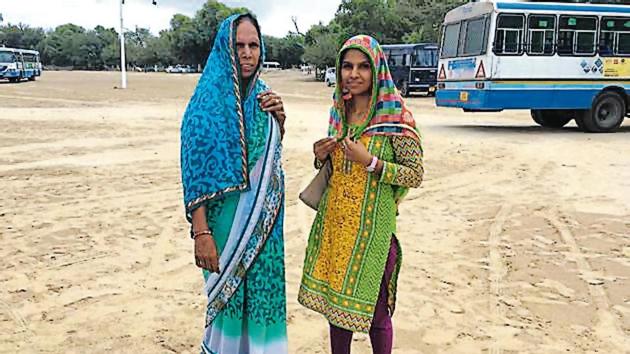 A Dalit man who operates a bus stand in Salabatpura, Singh joined the sect two years ago, guided by the noble things he had heard about it. "I heard how it rids people of alcoholism, meat consumption, arranges weddings for poor women. So, I started to visit the Dera. I began to like Baba ji's preaching," said Singh, who was himself an alcoholic before he took on the surname 'Insan'.
"Some friends used to talk about these cases against him, but every time I saw Baba ji, I thought those were complete lies." Now, Singh said he saw "truth in the charges". "This morning, I read in the newspaper that 18 girls have been rescued from the Sirsa Dera and sent for medical examination. Vishwas uth gaya hai (I have lost my faith in him). I can't trust a godman again." On August 29, the Akal Takht invited the predominantly Dalit followers of the Dera Sacha Sauda, who have long been marginalised by mainstream Sikhism, back into its fold.
Since the day of Singh's conviction when thousands of his angry supporters ran riot across Punjab and Haryana, the young, male mob has become the face of a sect that claims a following of 60 million. While many Dera followers remain loyal to the 70-year-old institution because of its place in their social and economic lives, some feel confused or conflicted in the face of their leader's disgrace. There are a number of factors that attracted people to Singh's cult; their reactions to his fall are equally diverse.
"It was after I saw a film of his — the one in which he plays an adivasi in Chhattisgarh — that I became inspired to follow him," said 21-year-old Pooja Insan, who was leaving the sect's Sirsa headquarters on August 30 with her mother at the urging of Haryana police. Enraptured by Singh's larger-than-life movie persona in MSG 2, Pooja persuaded her mother to travel from their home in Rohtak to the Dera's Sirsa estate within days of the film's release in 2015. "We felt so good. We were first given the naam (Insan), then there was a satsang and dance performances by children." Since then, she has visited the Dera at least once a month. Now headed back home, Pooja and her mother said they didn't know if they were ever coming back.
"We didn't know anything about the rape charges. We have never spent a night inside the Dera. We don't want to be a part of any controversy," she said.
Ramji Insaan, a 35-year-old engineer, isn't a recent follower. Like most Dalit families in Bajeka village of Haryana, he has followed the sect since its founding in 1946. "I took the name 15 years ago. The Dera is a big part of the village's life. Hundreds of young men are employed by it." Since August 25, the day of Singh's conviction by a CBI court, though, most of them have been avoiding the subject.
"We are waiting and watching," said Ramji, playing cards with his friends under a shed in the village. Asked if he is going to return to the Dera for the usual satsang, he said, "Abhi kuch nahi kah sakte. Aage dekhenge (Can't say anything now, will see how things go)."