India can 'locate, fix, strike targets' across border, says Air chief Dhanoa
Oct 05, 2017 11:08 PM IST
Air Chief Marshal BS Dhanoa said his force is capable of countering China; any decision on surgical strike involving the IAF has to be taken by the government.
Air force chief BS Dhanoa warned Pakistan on Thursday that India has the capability to "locate, fix and strike" targets across the border.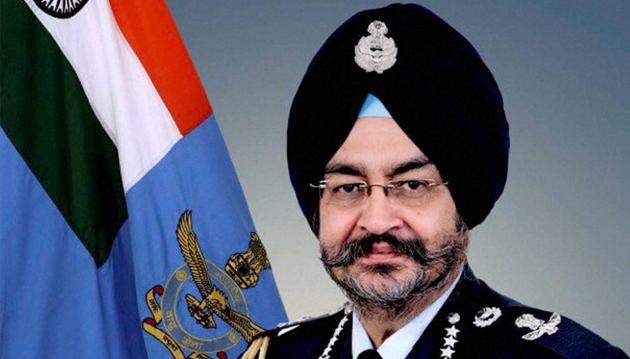 Air Chief Marshal Dhanoa's comments came in response to a question on the possibility of Pakistan using tactical nuclear weapons against India.
Stay tuned with breaking news on HT Channel on Facebook.
Join Now
He said India's options were outlined in its nuclear doctrine.
"It is answered in that … what happens when the enemy decides to use nuclear weapons on us. As far as the IAF is concerned, it has the ability to locate, fix and strike and that is not only for tactical nuclear weapons but also for other targets across the border."
Pakistan should not be expected to exercise restraint if India strikes its nuclear installations, the country's foreign minister, Khawaja Asif, said in response to Dhanoa's warning.
"That's the most diplomatic language I can use," Asif said in Washington DC, suggesting a full-scale nuclear war.
Pakistan has the world's fastest-growing nuclear arsenal but its safety has been a cause of global anxiety. More so for New Delhi after premier Shahid Khaqan Abbasi declared in September that his country has developed short-range nuclear weapons to counter threats from India.
Dhanoa was speaking to reporters at his customary press conference ahead of the India Air Force's 85th anniversary on October 8.
He said IAF assets weren't used during the military "surgical strikes" on militant camps in Pakistan-occupied Kashmir or in Myanmar last year, but the air force is capable of "full spectrum operations".
A decision on targeted operations would have to be taken by the government, he added.
According to him, the air force has the ability to fight a two-front war with China and Pakistan, though the possibility of such a war is low. But the enemy's "intentions can change overnight", he cautioned.
He said the IAF would take at least 15 years to deploy its authorised strength of 42 fighter squadrons but its existing fleet is mission-ready. The IAF has 33 combat squadrons with 16 to 18 planes each.
"We need 42 squadrons to carry out full spectrum operations, but it doesn't mean we can't fight a two-front scenario. There is a Plan B," he said.
He is second top military man to underscore the threat from China's growing assertiveness in the region as well as increasing Pakistani hostilities.
China is gradually taking over territory and testing India's threshold, army chief General Bipin Rawat said in September just after the countries ended one of their worst military face-offs in Doklam, a disputed area across Sikkim.
He referred to China and Pakistan as northern and western adversaries, and said the country needs to be prepared for a two-front war.
Dhanoa asserted that the IAF is ready to fight at short notice if need be.
The air chief said Chinese troops were still in Doklam's Chumbi valley for an exercise. "We hope they will leave soon after it's over," he said, reiterating an agreement of troop withdrawal that ended the months-long standoff in that strategic area.
"I expect the forces to withdraw in the future … both countries are major economic and military powers in the region and expected to display maturity in resolving contentious issues," he said.
Dhanoa said a batch of Rafale fighters from France and single-engine warplanes to be built in India will enhance the air force's operational capabilities.
Besides, he highlighted a milestone in the IAF when India's first batch of woman combat pilots will begin flying warplanes from December.
Flying officers Bhawana Kanth, Mohana Singh and Avani Chaturvedi, enlisted in June 2016, are training on British Hawk advanced jet trainers at Kalaikunda in West Bengal.
Dhanao said the IAF will pursue a programme to buy more midair refuellers. India is set to launch a fresh hunt for flying tankers to expand the strategic reach of its air force.
The IAF is expected to float a tender for at least six such planes that could cost above $2 billion.
A four-cornered contest is in the offing with American, Russian, European and Israeli military contractors eyeing the lucrative deal.
(with inputs from agencies and HTC in Washington)