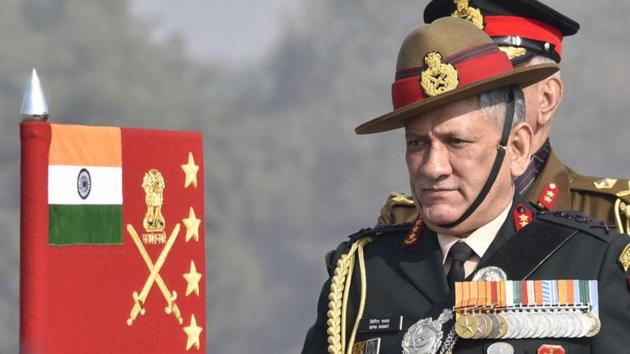 Army chief says China taking over territory gradually, warns of two-front war
General Bipin Rawat says India needs to be prepared for a two-front war since Pakistan will take advantage if hostilities break out with China.
UPDATED ON SEP 06, 2017 11:49 PM IST
China is gradually taking over territory and testing India's threshold, army chief General Bipin Rawat said on Wednesday, a little over a week after the countries ended one of their worst military face-offs.
Referring to China, Rawat said it had started flexing muscles and Pakistan was likely to take advantage of the situation developing along the northern border. He referred to China and Pakistan as India's northern and western adversaries, and said the country needs to be prepared for a two-front war.
"As far as the northern adversary is concerned, flexing of muscles has started…salami slicing, taking over territory in a very gradual manner, testing our limits of threshold… is something we have to be wary about and remain prepared for situations which could gradually emerge into conflict," Rawat said at a seminar organised by defence think-tank Centre for Land Warfare Studies.
"Salami slicing" refers to a string of small, clandestine operations meant to achieve a larger goal that would be difficult to accomplish in one go.
The chief's comments come more than a week after India and China ended a 73-day border face-off in Doklam plateau near Sikkim. Troops were locked in a tense stand-off during which officials in Beijing hinted at drastic consequences such as a wider conflict. Soldiers from the two country also traded blows and threw stones at each other in a more northern region – in Ladakh – while the Doklam problem went on.
"Whether these conflicts will be confined or limited in space and time or whether these can expand into an all-out war along the entire front (remains to be seen)…with the western adversary taking advantage of the situation developing along the northern border is very much likely," Rawat said.
The army chief said on Wednesday that there was no denying that India has to stay prepared for conflict on its northern and western borders.
This is not the first time military leaders have warned of Pakistan possibly taking advantage of hostilities between India and China.
Three years ago, the Indian Air Force told a parliamentary panel that Pakistan would certainly fish in troubled waters if China were to launch offensive operations against India. The IAF, however, said that China may not pose "a collusive threat" if hostilities were to break out between India and Pakistan.
Threats on two fronts, the IAF said in 2014, would be difficult to tackle but the force was prepared.
But two years later, in March 2016, Air Chief Marshal BS Dhanoa (then vice chief) said the air force did not have sufficient number of warplanes to fight a two-front war, setting off alarm bells in the government.
Close