In Assam NRC final list, over 19 lakh people excluded
According to details made available by the state coordinator for NRC Prateek Hajela, a total of 19,06,657 applicants, of the 33 million who had applied to be included in the list that identifies Indian citizens, failed to make the final cut.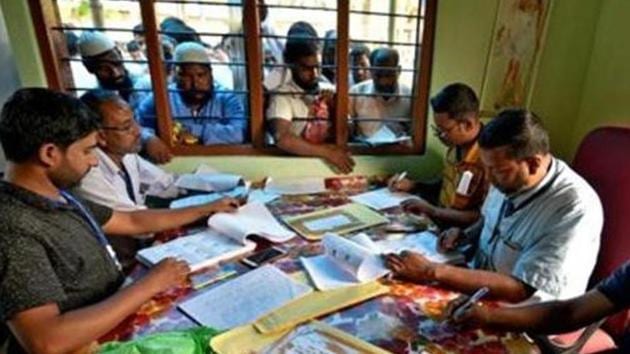 Updated on Aug 31, 2019 11:30 PM IST
Around 1.9 million people in Assam found themselves excluded from the final version of the National Register of Citizens (NRC) published on Saturday after a painstaking effort aimed at ending a four-decade movement against the presence of illegal immigrants, but whose outcome left even many of its original backers dissatisfied.
The Supreme Court-monitored process of updating the NRC for Assam, which was last compiled 68 years ago, took four years and 55,000 officials poring over 66.4 million documents. Earlier provisional drafts of the NRC, published in July 2018 and June 2019, had excluded roughly 4.1 million people.
"It has been found that a total of 31,121,004 numbers of persons are eligible for inclusion in final NRC, leaving out 1,906,657 numbers of persons including those who did not submit claims," a statement issued by NRC state coordinator Prateek Hajela said.
The NRC is aimed at identifying and weeding out illegal immigrants from citizenship rolls. Chief minister Sarbananda Sonowal has repeatedly promised that people who are excluded from the register will have 120 days to appeal before a foreigners' tribunal, a quasi-judicial body set up to adjudicate whether someone is an illegal migrant. He has also stressed that no deportation or drastic curtailing of political rights will take place.
"The entire process of NRC update has been meticulously carried out in an objective and transparent manner. Adequate opportunity of being heard has been given to all persons at every stage of the process," Hajela added in his statement.
The demand for NRC has its roots in the 1979-85 Assam Agitation against foreigners marked by violent clashes, strikes and protests across the northeastern states. It was sparked by concerns that the indigenous people of Assam were at risk of being outnumbered by outsiders, reducing opportunities for the economic advancement of the locals.
The agitation ended with the 1985 Assam Accord that set March 25, 1971 as the cut-off date to determine citizenship – the day the liberation war in neighbouring Bangladesh (then East Pakistan) began. To make it to the NRC, one had to prove that they, or their ancestors, were in Assam before the cut-off date.
There has never been any formal estimate of the numbers of people who entered Assam illegally but activists and student organisations have given out figures northwards of four million.
For example, in 2009, activist Abhijit Sarma petitioned the Supreme Court to update the voter list so that "4.1 million undocumented" people could be deleted. It was on the basis of his petition that the apex court ordered the NRC update in December 2013.
He, along with other activists, denounced the NRC figure, which is roughly 6% of the state's 31 million population, saying it was too low. "We have got a big zero from this NRC exercise," he said.
The All Assam Students Union (AASU), which spearheaded the Assam Agitation, said the government had lost a historic opportunity.
"We are disappointed as the figure of 1.9 million exclusions is nowhere close to earlier figures of illegal immigrants made public by government ministers in past. We will approach the Supreme Court, seeking intervention," said AASU adviser Samujjal Bhattacharya.
The state's ruling Bharatiya Janata Party (BJP), too, opposed the NRC, saying genuine Indians had been left out while illegal immigrants had made it to the list because of "anomalies".
"The BJP is unhappy with the final NRC. We feel this list won't be able to protect the political, social, economic rights of Indians residing in Assam," said Assam BJP president Ranjeet Dass.
His party colleague and senior minister Himanta Biswa Sarma went a step further, saying he had lost all hope in the NRC process.
"When so many genuine Indians are out, how can you claim that this document is a red letter for the Assamese society," said Sarma, Assam's finance minister.
He also said that more "finals" will be held for "driving out Bangladeshis" – indicating that the NRC list was not the final leg of the process.
The opposition Congress hoped the publication of the final NRC would end the doubts and questions around foreigners. "We will provide legal aid to all genuine Indians," senior Congressman and leader of opposition Debabrata Saikia said.
The BJP's coalition partner, the Asom Gana Parishad (AGP), many of whose leaders were part of the Assam Agitation, said the number of exclusions should have been much higher.
"We were deeply involved with the NRC process since beginning…but all of us feel disappointed today," said AGP president Atul Bora.
Across Assam's 2500 NRC Seva Kendras, people gathered at sunrise to check whether their names had made it to the list. In many cases, people found that some members of the family had made it, while others had been rejected – often for faulty spelling or inadequate documentation to prove their links to their ancestors. "We don't know what wrong thing we did," said Ranjit Dey, 68, in central Assam's Hojai. Neither him nor his three sons made it to the NRC.
Others who were excluded said they had no idea what they would do now. In Derapathar village in Hojai district, Khuki Majumdar said she had never heard of a foreigners' tribunal and said she will wait for the village headman to guide her. "I don't even know what rejection will mean for me," she added.
The 1.9 million number included roughly 400,000 people who did not seek inclusion in the NRC.
Close Story