India has great moral value, proud being here: Dalai Lama
Jan 03, 2023 07:42 PM IST
Speaking on the occasion, Dalai Lama said that since ancient times, India has not just believed in peace, but has practised non-violence and encouraged harmony
Tibetan spiritual leader, the 14th Dalai Lama on Tuesday laid the foundation stone for the 'Dalai Lama Centre for Tibetans' and 'Indian Ancient Wisdom' at Bodh Gaya in Bihar during his visit to the Indian state.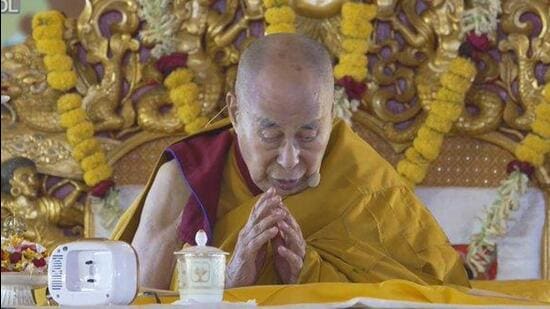 The centre is being developed by the Dalai Lama Trust on 30 acres of land at three spots in the Buddhist pilgrimage town.
Speaking on the occasion, Dalai Lama said that since ancient times, India has not just believed in peace, but has practised non-violence and encouraged harmony.
Also Read: BJP leaders meet Dalai Lama in Bodh Gaya after 3-day Buddhist teachings
"It's always been a great votary of the Sam Bhaav and balance. It's these principles and practices and faith which make this country different from others in the world," he said.
"Tibetans came here as refugees. But we are lucky to be here. This country has great moral values and culture and we are proud being its part," he said.
Dalai Lama said the centre is intended to revive India's ancient knowledge and wisdom.
"It will be a global centre which will encourage research work and other activities to revive the rich knowledge available in this land," the spiritual leader said.
Bihar's agriculture minister Kumar Sarvjeet, who is also the MLA from Bodh Gaya, said the centre would create a new chapter in the history of the Indo-Tibet relationship.
Kiren Rijiju, union minister of state for law and justice, who laid the foundation of Dalai Lama Centre for Tibetan & Indian Ancient Wisdom in Bodh Gaya in presence of the Tibetan leader said Bodh Gaya has always remained a centre of knowledge and wisdom.
Also Read: China tried to destroy Buddhism but…: Dalai Lama's strong remarks on Beijing
"Lord Buddha attained enlightenment here more than 2,500 years ago and since then, Bodh Gaya has been known as the seat of knowledge and in modern times, credit goes to Dalai Lama for maintaining and carrying forward this tradition," he said.
Earlier today, Rijiju, along with senior BJP leaders Sushil Kumar Modi and Vinay Sahasrabuddhe, met the Dalai Lama in Bodh Gaya where the Tibetan leader imparted Buddhist teachings for three days.