India, Pakistan came close to firing missiles at each other on February 27
Hindustan Times, New Delhi/Washington |
Shishir Gupta, Rezaul H Laskar and Yashwant Raj
Mar 23, 2019 07:12 AM IST
Hindustan Times spoke to a key CCS member, Indian and Pakistani diplomats, office of the US NSA, and intelligence officials to piece together some of the events on the day the fragile and uneasy relationship between the two neighbours almost reached breaking point.
India and Pakistan came perilously close to firing missiles at each other on February 27, with Prime Minister Narendra Modi deciding to up the ante after the capture of MiG-21 Bison pilot Wing Commander Abhinandan Varthaman by Pakistan, and Research and Analysis Wing secretary Anil Dhasmana communicating to his Pakistan counterpart Inter Services Intelligence chief Lt Gen Asim Munir that there would be an escalation in the Indian offensive if the pilot was harmed.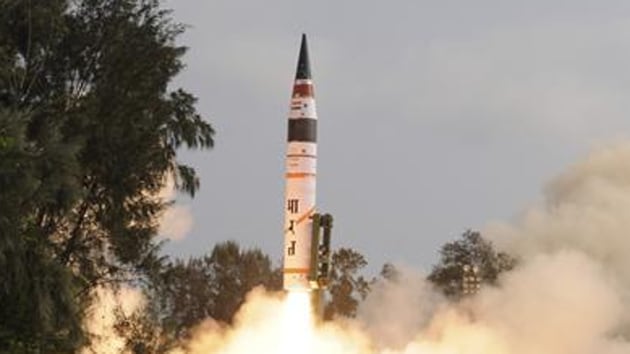 Hindustan Times spoke to a key Cabinet Committee of Security (CCS) member, Indian and Pakistani diplomats, office of the US National Security Advisor (NSA), and intelligence officials to piece together some of the events on the day the fragile and uneasy relationship between the two neighbours almost reached breaking point.
According to people with direct knowledge of the matter in New Delhi and Washington, Dhasmana spoke to Munir about the pilot's release. Wing Commander Varthaman was captured after he bailed out of his aircraft across the Line of Control, but not before he brought down a Pakistan Air Force F-16 that, along with other PAF aircraft, tried to attack positions within India on the morning of February 27 in the Nowshera sector of Jammu. The two also discussed the Indian army's deployment of 12 short-range surface-to-surface missile batteries in Rajasthan, the people added.
Also Read | Kartarpur corridor talks not resumption of bilateral ties with Pak: India
While the RAW chief talked to his ISI counterpart, National Security Adviser Ajit Doval told his US counterpart John Bolton and Secretary of State Mike Pompeo over a hotline on the same day that India was prepared for the worst if any bodily harm came to Wing Commander Varthaman. Both Doval and Dhasmana also spoke to their interlocutors in the United Arab Emirates and Saudi Arabia so that they would impress on the Imran Khan government the need to release the pilot without any conditions.
A spokesperson for the White House declined to comment when asked if Doval conveyed to Bolton on February 27 of India's readiness to launch a missile attack against Pakistan if the Indian Air Force pilot captured by Pakistan was harmed, and if the number of missiles to be used in such a strike was put at 12.
The two officials had their first post-Pulwama conversation on February 15, a day after the suicide car bombing of a bus carrying Central Reserve Police Force (CRPF) men left at least 40 troopers dead. Responsibility for the attack was claimed by the Pakistan-based Jaish-e-Mohammed. During the conversation, Bolton conveyed US support for India's right to respond in self-defence.
Also Read | 'Naya Pakistan' with 'nayi soch' should show 'naya action' against terror groups: Govt
Reuters reported on March 17 that India and Pakistan came close to firing missiles at each other and that it was the intervention by other countries that stopped this.
Interestingly, the Pakistani civilian and military leadership believed India was planning to launch at least nine missiles at Pakistani targets on the evening of February 27, people familiar with developments in Islamabad said.
In response, the Pakistani side had made preparations to retaliate by firing at least 13 missiles at Indian targets, they added.
The Pakistani leadership believed the attack would be carried out sometime between 9 pm and 10 pm on February 27.
As reports of a possible Indian missile attack spread on February 27, the Pakistani military ordered a blackout in several areas of cities such as Islamabad, Lahore and Karachi with defence installations and military residential colonies. This included the Askari Housing Society in Lahore and Malir Cantonment in Karachi, people in these two Pakistani cities said.
"Don't know about nuclear button or nuclear flashpoint. But PM Modi gave green signal to all measures if any harm came to the IAF officer at the hands of Pakistan Army …. India was prepared to go down the missile road on February 27 , " said the CCS member.
Dhasmana and Munir were in touch throughout the crisis and the RAW chief made three clear points to his counterpart, the people with direct knowledge of the matter said. First, that JeM chief Masood Azhar was directly responsible for the February 14 Pulwama attack as revenge for the killing of his kin Talha Rasheed. Second, that the Pulwama attack was celebrated at the Bahawalpur headquarters by the Jaish leadership and cadre. Third, that Wing Commander Varthaman was not to be touched.
The Indian diplomats, the CCS member and intelligence officials said the missile deployment, and the fact that the entire Indian military machine was on red alert, prompted Rawalpindi GHQ on the same day (February 27) to inform Delhi that it would release the pilot and that a statement to this effect would be made by Pakistani Prime Minister Imran Khan in Parliament on February 28. Rawalpindi also told Delhi that it would take action against JeM including its leader Masood Azhar.
Meanwhile, Pakistan was also told to back off from the precipice by the US, United Arab Emirates and Saudi Arabia, they added. While the US Centcom commander talked to Rawalpindi GHQ, both Bolton and Pompeo used their influence in Islamabad to release Wing Commander Varthaman. The IAF officer was released on March 1.
Pakistan's foreign minister Shah Mahmood Qureshi and Prime Minister Imran Khan had referred to the reports of a possible attack by India in public remarks. Khan, while making a speech in Parliament on February 28, pointedly referred to a possible Indian "missile attack" and Pakistan's response.
"I know last night there was a threat there could a missile attack on Pakistan, which later got defused," Khan said in his speech.
"I also know how our military was prepared to retaliate to such an attack...So I am telling India from this platform, don't take this any further. Because whatever you do, Pakistan will be forced to retaliate," he added.
Also Read | 'People will not forgive Oppn': PM after Sam Pitroda raises questions on Balakot strike
Khan said he tried to call Prime Minister Narendra Modi on the evening of February 27 as he wanted to make it clear Pakistan didn't want any type of escalation. He said Qureshi too had spoken to several world leaders about de-escalation, but he made it clear that India shouldn't mistake these efforts as a "sign of weakness".
Qureshi, while appearing on the show "Off The Record" on ARY New channel on the evening of February 27, contended that the February 26 Indian air strike on Balakot was a "drama that has been enacted for domestic politics, for victory in the elections"
He said, "I have no doubt there will be another attack. I am telling the country that we must remain prepared, we must do everything to defend ourselves and we must be united.
"There could be an aerial attack or a ground attack, and they will try to derive political mileage...But I hope they will show restraint, as the international community desires."
Qureshi agreed with the host of the TV show that the night of February 27 was "critical", and that any Indian attack would be perceived as an "act of war" if there were casualties or military facilities were targeted.
India struck JeM camps deep inside Pakistan in Balakot on February 26, which was described by the US as "counterterrorism actions", a definition that has been embraced by India as an endorsement of its response.
Many other countries were involved as well in what they have described as three nerve-wracking days.
The United States believes that Pakistan would have returned the pilot under any circumstances, but Islamabad did hear from multiple sources, including the United States, that they would welcome it returning the pilot quickly.
From the moment Islamabad acknowledged it had the pilot, it is understood to have told everybody that it did not want to keep him. Pakistan may have realized there was no value in keeping the pilot in its custody for any length of time.
India was also keen, at the same time, to convey to the United States that it had no intention of escalating the crisis militarily and an Indian official conveyed this message to the Trump administration in a late evening visit on February 27.
The following morning, February 28, President Donald Trump announced at a press conference in Hanoi, at the conclusion of his failed summit with North Korea's Kim Jong-un, that he had some "reasonably attractive news from Pakistan and India," "some reasonably decent news".
He went on to both acknowledge the American role in ending the crisis and taking credit for it: "We've been in the middle, trying to help them both out and see if we can get some organization and some peace", Trump said.